(English text below)
Even wat data doorgeven.
In het weekend van 23, 24 en 25 oktober as ben ik in Leuven op de beurs Stiel en Stijl. Ik zal binnenkort nog een uitnodiging rondsturen en er ook nog over bloggen, maar je kan nu al hier klikken om de site van deze organisatie te raadplegen.
Op zondagnamiddag 15 november as , stel ik tentoon bij Hilde Debruyn in Halle. We doen dat met z'n tweetjes. Hilde is gepassioneerd door papier. En ook door kleur, we zitten op dezelfde golflengte. Ik ben er vorige week al eens langs geweest om afspraken te maken en de  expositieruimte te verkennen… 't wordt echt leuk!
Ik heb al wat papierwerk van Hilde gekocht, omdat ik het mooi vind en ook omdat ik het wil gebruiken als inspiratiebron voor kleur en om mijn eigen werk op te presenteren. Hier is al een voorsmaakje: de achtergrond is van de hand van Hilde, de oorbelletjes kennen jullie wel.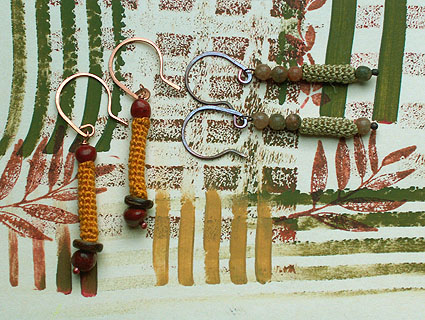 Binnenkort meer info over ons initiatief.
En voor wie zit te wachten op een workshop. Het MIAT heeft me gevraagd om de reeks Sier(dr)aden haken, nogmaals te herhalen. De reeks zal doorgaan op drie zaterdagnamiddagen: 13, 20 en 27 maart 2010.
En wat mijn eigen agenda betreft: 't zal tot volgende week zijn. Ik vertrek voor een paar dagen naar Lissabon!
This post is about a craftfair, an exposition and workshops to come.
On the picture you see a preview of the exhibition I will do together with Hilde Debruyn, who works with paper. We share the passion for colour.
And about my own agenda: see you nex week, I 'm leaving for Lisbon!