(English text below)
Een paar maanden geleden heb ik hier al eens vol goeie voornemens geblogd over onafgewerkte stukken. Met redelijk goed resultaat, want het meeste van wat ik toonde was ook daadwerkelijk afgewerkt na het weekend.
Eén van de dingen die waren blijven liggen, was een basis halssnoer (tube) in twee kleuren, in handgesponnen zijde. Ik had er eentje in aubergine/mosgroen en eentje in zwart/rood. Inmiddels heb ik nog zo'n paar van die basissnoeren gehaakt. Maar wel met de bedoeling om die verder af te werken met steeds andere accenten.
Welk soort van snoer ik precies bedoel, kan je in dit blogbericht lezen. Het gaat over het snoer dat ik een tijd geleden voor Karlita haakte.
Hieronder twee van de nieuwe die nog verder dienen afgewerkt.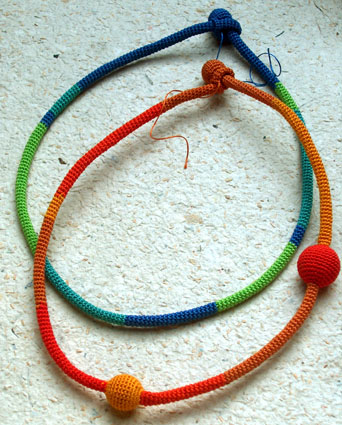 Ik ben wel reeds begonnen met draadjes verzamelen om aan die buizen verder te werken. Ik toon jullie even de zakjes waarin ik dat materiaal verzamel. Het zijn plastieken zakjes die worden verkocht om eetwaren vacuüm in te verpakken. Ze zijn behoorlijk stevig, bestaan in verschillende afmetingen en zijn te koop bij AVA-papierwaren.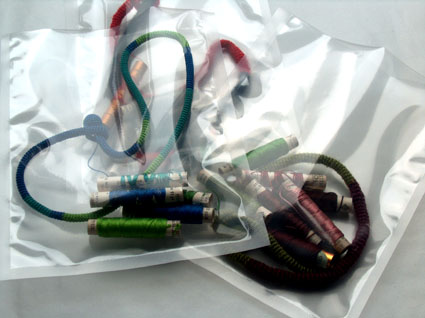 Ik gebruik die zakjes ook om mijn afgewerkte snoeren in op te bergen. De zakjes kunnen mooi rechtop staan in een kartonnen doos, waar ik dan kan in kijken als in een steekkaartenbak. Handig!
I'm busy crocheting some very basic necklaces, that I want to adorn and give more volume afterwards. You can see two of those necklaces in the first picture. And in this blogpost you can reread what kind of necklace I have in mind.

On the second picture you can see how I keep my necklaces and chosen material together. These plastic bags are originally intended for vacuüm preservation of food. They are quite strong and exist in several sizes. I also use them to store my work.