(English text below)
Soms ben ik heel rustig als ik mijn garenvoorraad bekijk.  Meer dan voldoende voorraad om al mijn creativiteit waar te maken, denk ik dan. Maar plots slaat dat om en ga ik koortsachtig op zoek naar zijden draden op het internet.
De naam van garenmerken zijn daarbij handig om in te geven als zoekterm.
Ik heb er al een paar genoemd in deze blogpost: Gütermann (blijft veruit mijn favoriet om mee te werken), Tubor, Amann, …
Ook in Amerika zijn er garenproducenten. Corticelli is er eentje die ik vaak tegenkom op zoek naar zijde. Hieronder mijn meest recente vondst op Ebay: allemaal mooie oude houten bobijntjes zijde ('t is wel stikzijde, geen cordonnet)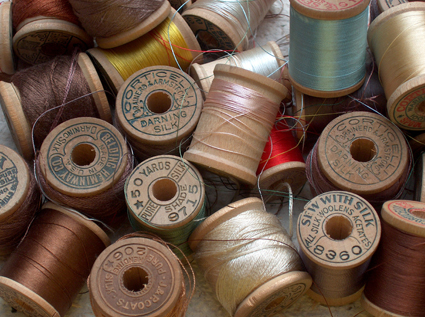 Even op een rijtje dus:
Gütermann -Tubor – Amann – Corticelli (USA) – Belding Heminway (USA) – El Pino (Spanje) – Felix (Frankrijk) -Bozollo (Italië) -J & P Coats (USA) – Au ver à  soie (Frankrijk) – …
De foto hieronder is een schoendoos vol bobijntjes zijden (?) stikgaren. Gekregen via een kantvriendin van mijn moeder. Ik moet nog uitzoeken of het pure zijde is, maar het is een fantastische aanwinst qua kleuren. In mijn hoofd rijpt al een ontwerp om een snoer te haken, drie draden samen, helemaal in overlopende kleuren.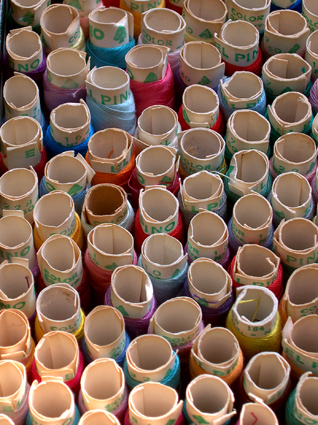 Er zullen nog wel veel meer merken zijn … wie wil aanvullen: hou jullie vooral niet in 😉 ik verneem het graag.
Some blogposts ago, I mentioned some brands of silk sewing yarn. Gütermann remains my all times favourite. But there are more brands.
In the Dutch texteabove you find a whole list of brands. These names can be useful in search engines, when looking for silk material.
On the first picture you see my newest Ebay-purchase: really beautiful and old wooden bobbins with Corticelli silk. The second picture is a detail of a shoebox full of colourful bobbins I got from my mother.
I you should know more brands of silk sewing yarn, please let me know.