(English text below)
Ach wat is het soms moeilijk kiezen waar ik eerst wil aan verder werken. Nieuwe kleinere dingen uitwerken voor een beurzen of Etsy, of verder werken aan mijn African Diva's collectie.
Het AD snoer waar ik nu aan bezig ben (en reeds voorstelde in deze post) gaat wel vooruit, maar is nog lang niet klaar. Dit is de huidige stand van zaken: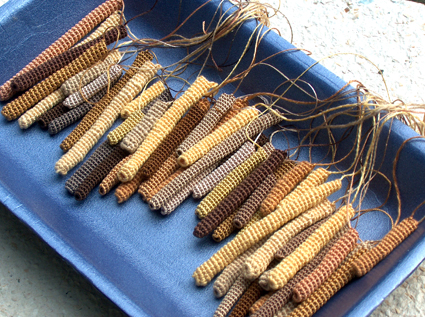 Ik schik de tubes in een fruitschaaltje om aldus te beslissen over kleur en lengte van de volgende tube.
Ik speel hierbij met verschillende merken van zijde, zijden cordonnet. Ze  hebben allemaal een verschillende glans en stevigheid.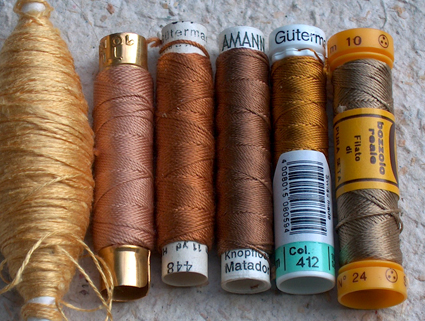 Van links naar rechts: iets wat ik nog liggen had uit de tijd dat ik nog miniatuurweven deed, Tubor, Gütermann (oud), Amann, Gütermann (nieuw) en Bozzolo (Italië).
Binnenkort zal ik nog eens een blogpost besteden aan merken van zijde die voor dit fijen haakwerk bruikbaar zijn. Deze merken ingeven in een zoekmachine kan handig zijn bij de zoektocht naar materialen.
En inmiddels heb ik ook deze kokoskraaltjes aangeschaft om te gebruiken bij de afwerking van dit snoer. Ik heb ook nog een ander materiaal in petto, maar dat ga ik nog niet verklappen 😉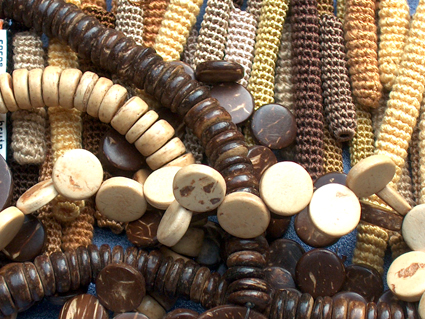 Oh, it's so difficult to choose what I will do: continuing my African Diva's collection or preparing smaller jewellery for craftfairs and Etsy.
My AD 6 is growing though. Above you can see the current state of affairs. I presented the finished tubes on this tray, which helps me deciding on the colour and the length of the following tube.

On the second picture you can see the different materials I use in this necklace. They all have a different shade and strength. From left to right: some silk from the time I was busy with miniature weaving, Tubor, Gütermann (vintage), Amann, Gütermann (new) and Bozzolo (Italy).
In a few days I will devote another blogpost to silk brands. Those names can be useful in the search for fine crochet threads.
On the last picture are the coconut beads I bought to combine with my tubes. I consider using another material for this necklace, but that's still a secret 😉