(English text below)
Als je een Etsy shop leuk vindt, kan je die een hartje geven – een soort van favorieten dus. Af en toe ga ik wel eens kijken hoeveel hartjes mijn shop heeft en héél af en toe klik ik op mijn 'aanbidsters'.
Begin deze week kreeg ik een hartje van Mariemoo!, bleek een Belgische shop te zijn (Kortenaken). Op het moment dat ik het zag waren er nog geen juwelen opgelijst in de shop, maar het profiel van de dame in kwestie sprak me al aan: kunsthistorica, bezig met etnische kralen, authenticiteit, …
Ga nu maar eens kijken in de shop (klik hier): bijzonder mooie snoeren en oorbellen in absoluut mooie materialen. En allemaal asymmetrisch – waar ze steengoed in is! Die asymmetrie wordt ongetwijfeld haar handelsmerk.
En jawel, ik was de eerste klant. Ik was gewoon wég van één van de snoeren. Vanochtend werd ie geleverd. Het openmaken van het pakje was op zich al een gelukkig moment.
Ik heb naderhand alles weer toegedaan en foto's gemaakt. Lukt het om je voor te stellen hoe ik heb genoten van dit pakje?
De veelbelovende doos met de naam van de shop: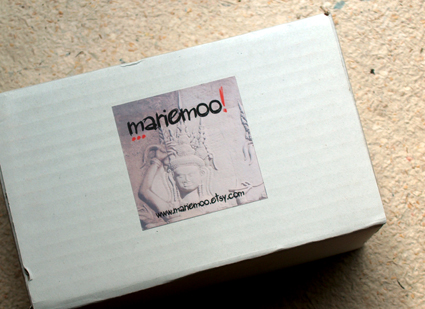 Zelfs die rode papieren beschermslingertjes vind ik mooi: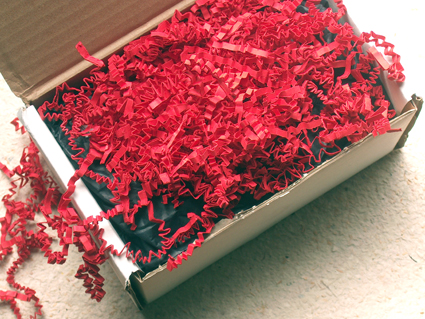 Stijlvol in zwart zijdepapier, met de naam van de shop. Ik vind nu al het uitroepingsteken meer dan terecht!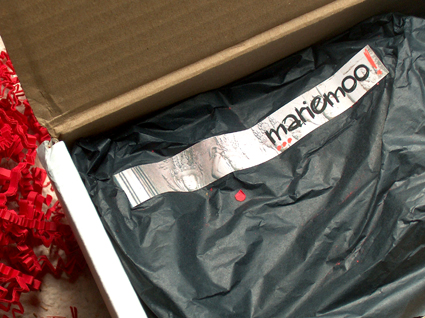 Goed verpakt en dus nog even geduld 😉
Mijn snoer!!! Whaaaw!!! Zéééééééééééééééééééééér mooi!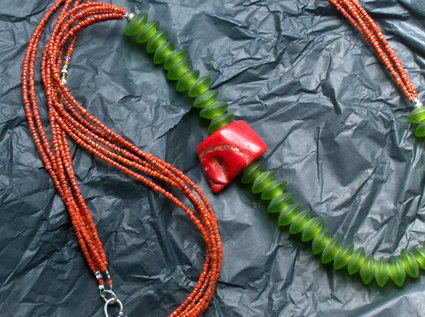 En 't is nog niet gedaan: een paspoort van het snoer, met uitleg  (o.a. afkomst) over de gebruikte kralen en materialen en een vriendelijk aanbod om te herstellen indien dit ooit nodig mocht blijken.
Ik ben oprecht onder de indruk van deze shop. Iemand met liefde en passie, da's duidelijk!
On Etsy you can heart shops of fellow Etsians, it's a kind a favorites. Sometimes I go and look to check who hearted me. That's how I discovered Mariemoo! 's shop (a compatriot: Belgium) . When I first visited it no items were listed yet, but I was fascinated by the lady's profile : arthistory, ethnic beads, …
So I came back later and was really impressed by the beautiful authentic necklaces and earrings. All of them are asymmetrical, which I like a lot and which was extremely well done.
Guess what: I am her first customer. Today the parcel was delivered. I took the above pictures to show how I enjoyed opening it and discovering my new necklace.

Please click here to visit Mariemoo!'s shop. The exclamation mark in her shop's name is more than deserved.