(English text below)
Nooit tevoren gebeurd! Het is vandaag exact een volle maand geleden dat ik nog eens heb geblogd! Een goed moment om nog eens een teken van leven te geven en om weer aan de slag te gaan dus.
De voorbije weken was ik in Bretagne, stond ik in Maastricht op de Craftparking (16 augustus) en heb ik vooral gerust en veel 'niets' gedaan 😉 . 'Niets' in de zin van Dolce far niente dus!
Van de Craftparking in Maastricht heb ik zelf geen foto's (alle deftige fototoestellen hier in huis zijn in herstel), maar verwijs ik graag naar de uitgebreide (zowel que tekst als fotomateriaal) blogpost van Mitsy – Artmind en van Greet-Fleurfatale.
'Priegelwerk' (een typisch Hollands woord) was de meest gehoorde commentaar op mijn werk daar in Maastricht, mensen staan toch altijd nogal te kijken van mijn fijne pietepeuterige haakwerk 😉
Naar Bretagne had ik een volle zak zijden stoffen reepjes meegenomen om mijn omwikkelsnoeren te maken. En da's gelukt: 14 stuks. Heerlijk om eens zoveel tijd te hebben: 's avonds of bij bewolking maakte ik de snoertjes, bij zon zat ik buiten om ze met haakwerk af te werken.
En ik had ook materiaal en inspiratie mee voor mijn zesde African Diva's snoer. Het wordt iets geïnspireerd door buisvormige kralen van been en hoorn. Wat ik al klaar heb zie je op de foto. Nog veel werk te gaan !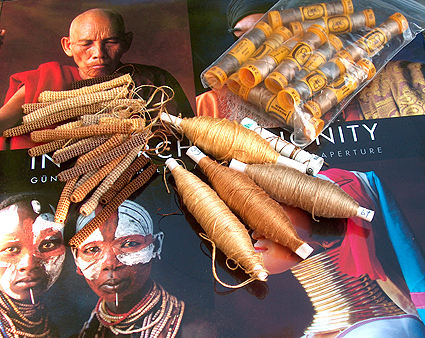 A record! Today it's exactly one month ago that I blogged. In that time I've been resting, I spent two weeks in Britany (France) and I attended a craft fair in Maastricht (the Netherlands).
Please read Mitsy's – Artmind's blog and Greet's – Fleurfatale's blog for their enthusiastic report on the Maastricht's Craftparking. I did not take pictures myself, but you can see me on the blogs I mentioned.

To Britany I took al lot of silk fabric, a box of silk cordonnet and inspiration for my sixth African Diva's necklace (see picture)

Ik zal pas volgende week opnieuw bloggen: nog twee dagen workshops geven in de buurt van Brugge en nog naar een marktje in Antwerpen.
Geniet nog van de rest van de vakantie/zomer!!! Doe ik ook 😉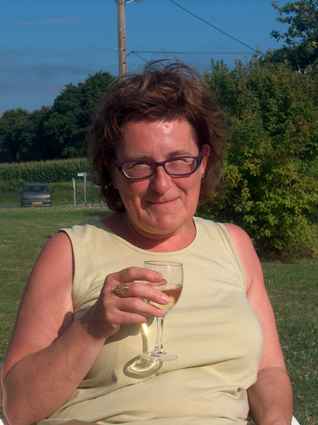 I won't be blogging again before next week: two workshops to come and another craft market.
Enjoy the rest of your holidays/summer! That what I 'll also do 😉