(English text below)
Mijn 'haakster block' ( allicht niet bestaand woord, naar analogie met 'writer's block) lijkt wat weg te ebben. Het op zoek gaan naar (en aankopen van) nieuw materiaal was de sleutel voor nieuwe ideeën. Ik heb nu 'silk carrier rods' en zijdecocons in huis gehaald. Ja, ik blijf het zoeken in de zijdeproducten.
Eerst de  'silk carrier rods'. Ik ken hier geen Nederlandse vertaling van. Maar het is een afvalproduct, of mooier uitgedrukt: een bijproduct – bij het afwikkelen van de zijdecocon. Dit zijden 'staafje' wordt gebruikt om er de zijden draad rond te leiden bij het afwikkelen. Als de gehele cocon is afgewikkeld, wordt dit staafje eruit getrokken en blijft de lange draad over. De natuurlijke lijm (de sericine) is nog aanwezig, vandaar dat het nogal stevig is. Het ziet eruit als laagjes, korte eindjes zijden draad. Door de lijm blijven de korte stukjes aan mekaar zitten, maar je kan ze ook open trekken.
k' Moet toegeven dat ik mij dit proces niet helemaal voor de geest kan halen, maar de detailfoto hieronder en de foto's van mijn broches, maken wel duidelijk wat zo'n 'rod' is.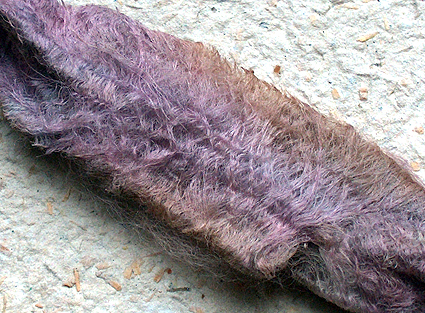 Ik vind het heerlijk materiaal om mee te werken. Ik heb ze inmiddels in vele kleurtjes besteld … Elke broche is anders. Ik laat me gewoon inspireren door de vorm die het staafje heeft en ga dan aan de slag met zijden stof, de zijden cordonnet en handgeverfde zijde in bijpassende kleuren.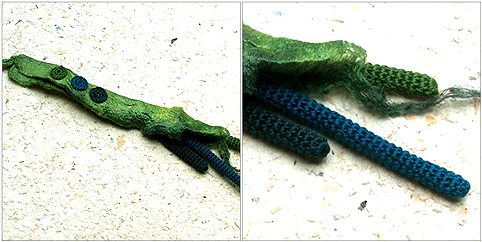 Seemed that I had a 'crocheteers block' (non existing word probably, but is something like a writer's block).
Ordering new materials made an end to it. I bought silk rods and silk cocoons. This blogpost is about what I do with the rods.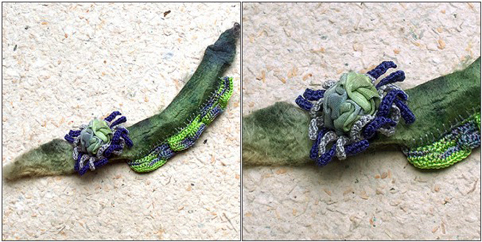 Carrier silk rods are the byproduct of reeling silk from the cocoon. As the silk filament is unraveled from the cocoons into a skein it is carried over a rod. Silk builds up on this carrier rod and must be removed. This silk is then slit and removed. These slit tubes still have the sericin. That's why they are kind of stiff and a perfect product to make brooches with it.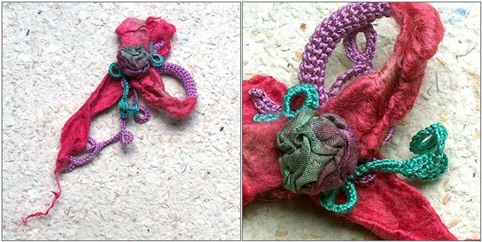 I love this material so much. In the meantime I have ordered lots of colours to make more brooches. As all these rods have different natural forms, they inspire me endlessly.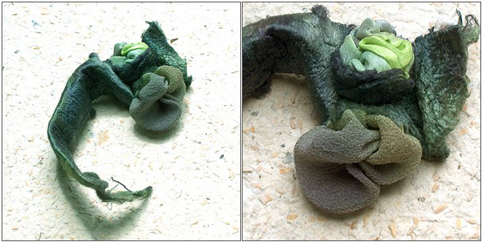 You should see my workplace: the rods, silk cordonnet, lots of small pieces of silk fabric (handdyed and other), handdyed silk thread,… I just love to work in the beautiful mess 😉