(English text below)
Toch nog eens een blogbericht. Met nieuwe ringen dan nog wel.
Een paar weken geleden was mijn moeder in het ziekenhuis, ik ging ook wat vaker langs toen ze weer thuis was. En voor op de trein zocht ik wat passende kleurtjes zijde bij mekaar om kleine dingen te haken. Ik had eerder al eens een ring gemaakt, verder afgewerkt met kralen … nu dus een hele reeks. En voor 't eerst eens afgestapt van de idee om enkel vasten te haken (zie het gehaakte randje met lossen).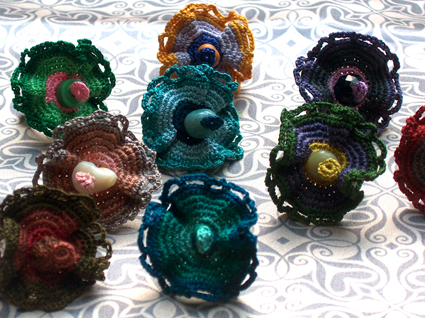 Dit is ook wel het soort spul dat ik in augustus meeneem op vakantie. 'k ben van plan om in de tweede helft van de maand augustus (wel nog in verlof maar niet meer op reis) eens met een marktje mee te doen.  Voor de gezelligheid en om een aantal Etsy-madammen eens in levende lijve te ontmoeten. En dan komen die kleine hebbedingen wel van pas
At last I'm back with a new blogpost and with new rings!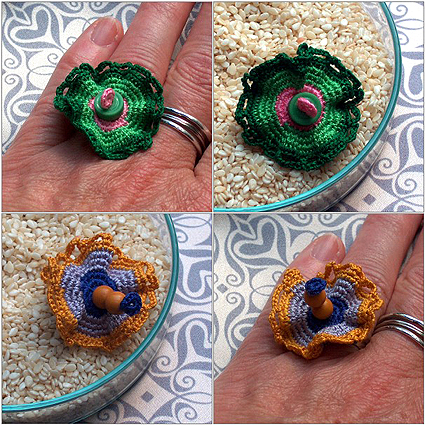 Some weeks ago my mother was in hospital, when she was back home I visited her more. Crocheting small things during my trainride, made the trip even more exiting (I like to travel by train!).
I made once before a ring with a semi precious stone bead, now I made a whole series. I plan to make more of these small gadgets during our summer holiday beginning of August.
The second half of August I'm still free from office work, then I plan a crochet fortnight! There are those workshops I mentionned before. And I also plan to participate to a craft market, where I can meet some Etsy-ladies in real life! That will be fun!