(English text below)
In de aanloop naar de tentoonstelling bij Fleurfatale thuis, was ik veel bezig geweest met kleur. Vooral dan het onderscheid tussen koude kleuren (met een blauwe ondertoon) en warme kleuren (met een gele ondertoon). Het is mede op basis van dit onderscheid dat jij en ik worden ondergebracht in seizoentypes.
Aan Heidi, de kleurconsulente die aanwezig was op onze tentoonstelling, vroegen we wat ze van onze indeling vond. Het meeste vond ze warm, dus ook wat ik had gemaakt met koude kleurtypes (zomer en winter) in mijn achterhoofd.
Ik kan daar goed inkomen. Allicht speelt deze voorkeur al bij de aankoop van mijn materialen. Zelf ben ik een warm kleurtype en intuïtief zal ik ook naar warmere kleuren grijpen.
Hieronder twee pogingen om voor koude kleurtypes te werken. Is het gelukt? 😉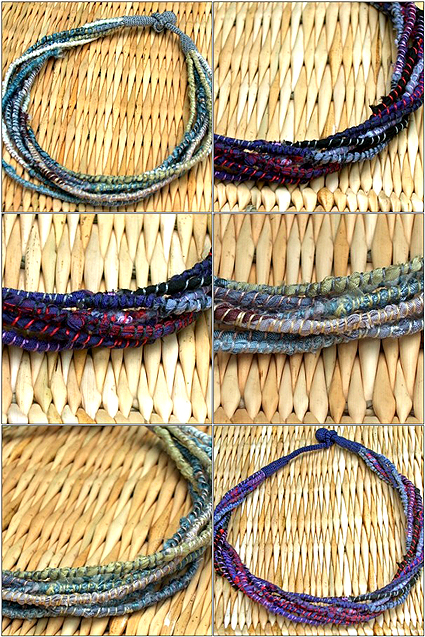 You know that the months before our exhibition end of last April, I was busy with colour analysis. I especially tried to learn to 'feel' the difference between cold (with a blue undertone) and warm (with a yellow undertone) colours.
I asked Heid, the colour analyst, how she observed our cold and warm jewellery. She thought a lot of it was warm, also those pieces that we had intended for cold colour types.
I'm a warm colour type myself. So, I guess this intuition starts already when buying materials for my jewellery. It's no wonder that most of my pieces are fairly warm coloured items.
In the two necklaces you see on the pictures, I really tried to use cold colours. What do you think?