(this post is about workshops I will be giving in August in the neighbourhood of Bruges)
Een paar maanden geleden kreeg ik een mail van een mevrouw die graag bij mij een workshop had gevolgd samen met haar dochter. Bleek dat de vrouw in kwestie ook wel héél wat talenten in huis had, zelfs een eigen atelier had voor zilverklei, porseleinen poppen, … Klik hier om kennis te maken met alle activiteiten van 't Klein Idee.
Na wat heen en weer gemail, staken we gewoon een workshop in mekaar op verplaatsing. Aanvankelijk zou ik naar De Haan gaan, maar aangezien die werkplaats wat te klein is voor de vele enthousiaste inschrijfmadammen, verhuizen we naar het atelier aan haar huis in Stalhille (eerlijk, ik had nooit gehoord van dat dorp, het is in de buurt van Jabbeke).
De eerste dag vrijdag 21 augustus 09 is al volzet. Voor de tweede dag zaterdag 22 augustus zijn nog een paar plaatsen vrij. Op de website van 't KLein Idee vind je alle verdere info.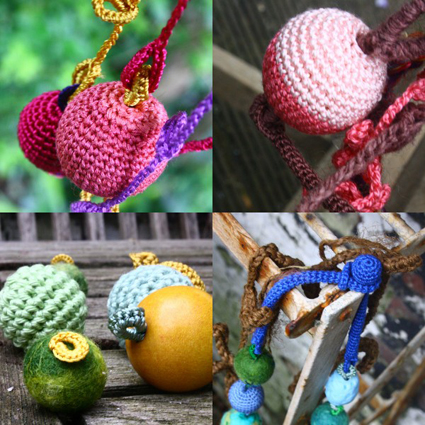 Hierboven een foto van wat er op het programma staat: kraal omhaken, gewone kraal voorbereiden om in haakwerk te gebruiken, slotje haken, … Voor een volledig afgewerkt snoer zal de tijd te beperkt zijn. Maar je gaat naar huis met tal van  ideetjes om zelf te verwerken. 't Is ook mijn ervaring dat veel deelneemsters juist dat haakwerk onder de knie willen krijgen om het verder te combineren met technieken waar ze zelf al langer mee bezig zijn.
Wie weet, tot dan!
Wil je reeds vroeger kennismaken met Véronique en haar grote aanbod aan workshops: op zaterdag 11 en zondag 12 juli 09 (van 10u tot 18u) is er open deur in haar atelier in De Haan. Klik nog eens door op haar website (hierboven) voor meer info.