(English text below)
En hier is het vijfde Afrikaans geïnspireerde halssnoer.
Que inspiratie kan ik er niet zoveel over vertellen. Ze komt deze keer puur uit mijn hoofd, niet uit een fotoboek.
Het snoer bestaat uit zeven aparte snoeren van ongeveer anderhalve meter. Het snoer is toegehaakt (dus zonder slotje), maar is wel groot genoeg om tot drie keer rond je nek te draaien. Elk snoer bestaat uit verscheidene stukjes omwikkelde zijden stof. Bovenop de kleurovergangen haakte ik telkens een buisje in bijpassende kleuren. Om jullie een idee te geven: ik heb ongeveer zeventig van die buisjes gehaakt.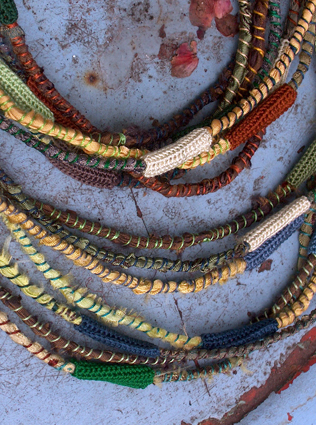 Voila: enkel te dragen, dubbel of driemaal:

Vanaf hier zie je de rest van de foto's van dit halssnoer.
This is my fifth African Diva's necklace.
As for inspiration, it just came out out my head, not from a photobook this time.
It consists of seven separate strands of a good yard and a half. The strands are large enough to wear them simple, double or turn them three times around your neck (see the pictures).
Every strand was made of several pieces of silk fabric, I crocheted a tube where the colours change. To give you an idea: I crocheted some seventy of those tubes.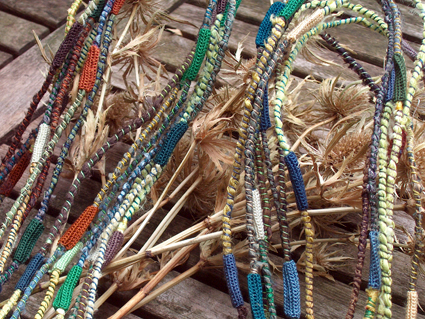 From here onwards you can see all the pictures of this necklace.