(English text below)
Hier ben ik er mee: de foto's van het vierde Afrikaans geïnspireerde snoer! Sommigen hebben het al gezien, want ik had het even aan op de tentoonstelling eind april.
Voor de inspiratie op vlak van de kleuren ben ik in de boeken gedoken. Zie de foto hieronder.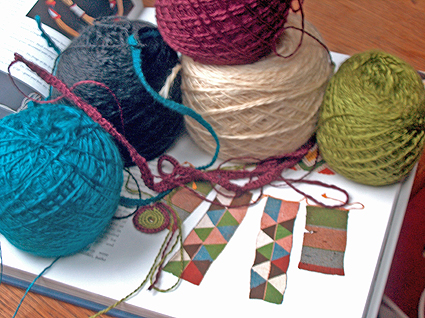 Over het al dan niet gebruiken van dat gebroken wit, heb ik nog even getwijfeld, maar het toch gedaan. Ik heb er wel op gelet van die witte elementen maar beperkt te gebruiken, details dus. En daar kreeg ik wel goeie reacties op. Veel van die Afrikaanse kralensnoeren (en vooral armbanden) hebben trouwens wat van die witte details.
Schijfjes haken (ze zijn telkens dubbel, omwille van de stevigheid) heb ik vroeger ook al gedaan. Vind ik wel leuk om te doen, maar veel werk (tja, veel draadjes te verwerken).
Als materiaal gebruikte ik enkel handgesponnen zijde. Blij dat ik die heb, want van die zijden cordonnet heb ik nooit voldoende aantallen in één kleur voor zo'n groot snoer.
Hier is het dan: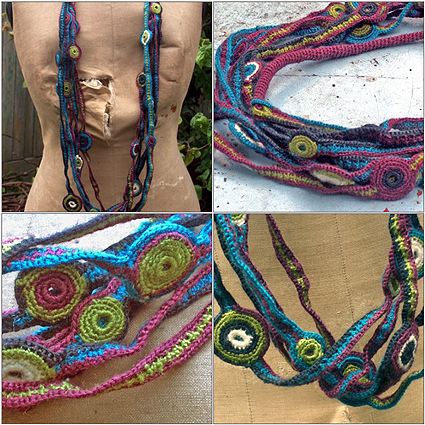 En als je vanaf hier klikt, kan je nog een heel pak meer foto's zien van dit snoer op de fotopagina van mijn site.
Het snoer is ongeveer 1,20m lang. Ik vind dat het mooist tot z'n recht komt als het hangt zoals op de foto. Maar je zou het ook dubbel kunnen dragen.
I proudly present my fourth African Diva's necklace.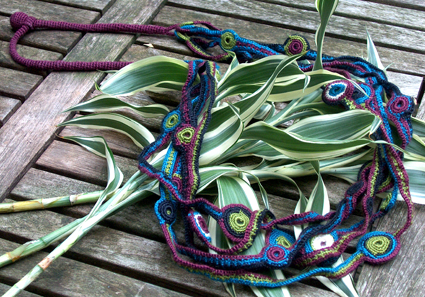 On the first picture you can see the colours that inspired me. I doubted some time on whether yes or no to use the white accents. But you see it often in African bead bracelets or fabrics, those white details. So, I did.
I only used handspun silk. Lucky I have this material, as in my silk cordonnet stack I don't have lots of bobbins in the same colour.
From here onwards, you can see a lot more pictures of this necklace.