(English text below)
Even een kort bericht om te zeggen dat ik nog leef. Na de tentoonstelling van eind april, lijk ik moeilijk weer op gang te komen. 'k Blijf wel bezig, maar duidelijk niet zo intens als voordien. Voor al diegenen die denken dat ik 's nacht haak: nu eventjes niet dus 😉
Mijn vijfde African Diva's halssnoer is wel afgewerkt. Wat me meteen doet beseffen, dat ik het vierde nog niet heb getoond.
Deze ochtend dus wat foto's gemaakt. Net voor de regen en met m'n eigen oude fototoestel (zoonlief begint morgen aan z'n examens, dus geen foto-opdrachten van mama).
Hier is al een fotootje van African Diva's vier en vijf, tesamen. In de loop van volgende week volgt er nog een uitgebreider fotobericht.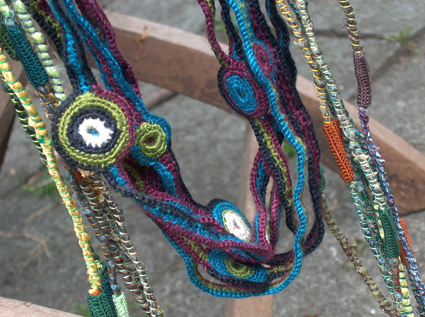 En voor de Gent(en omstreken)enaars: de programmabrochure van de Gentse Feesten is uit! Jippie! Zahia geeft veel workshops, klik hier voor alle info.
Ook iets leuks ontdekt: 'Schuune van verre … Etnische sieraden', een kennismaking met de verzameling van de Universiteit Gent. Alle info hier.
Just to tell you that I'm still alive and kicking. But it seems that I have some difficulty to regain my usual crochet rhythm … I'm not crocheting at night, as some of you might think ;-).
In the meantime I have finished my fifth African Diva's necklace. Which reminds me of the fact that I haven't shown you my fourth.
So I took some pictures this morning. On the above picture you see number four and five together. Keep an eye on my blog the following days: I will publish more extended photoposts on these two necklaces.
See you!