(English text below)
Al sinds ik een prille tiener was, had ik iets met ringen. Toen wel op een eigenaardige manier: ik droeg er geen! Want ik wou mijn eerste ring krijgen van mijn lief. 't Heeft even geduurd eer dat lief er aan kwam. Maar op mijn eenentwintigste (1977) kwam het er dan toch van: een sober zilveren ringetje (het derde van links).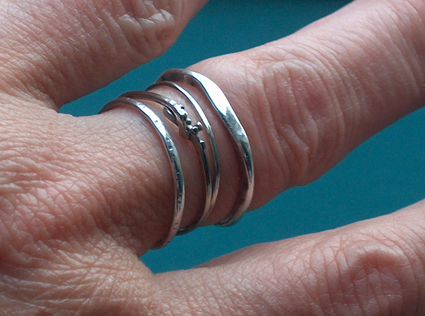 Ik draag het nog steeds, want het lief van toen is nu haast dertig jaar mijn man.
Die ring is niet meer van mijn vingers geweest. Net zo min als die andere ringen aan mijn linkerhand. Van links naar rechts: mijn trouwring (1980), een wit gouden ring gekregen van mijn ouders bij mijn eenentwintigste verjaardag, dan dus mijn allereerste ring.
En de laatste is een zilveren handgemaakte ring die ik ooit in Stockholm kocht ergens in de jaren tachtig. Ik was er op bezoek bij een vriendin. Door een aantal misverstanden moest ik er nog een aantal dagen alleen blijven voor mijn terugvlucht naar huis. Ik was zot van al het moois dat in Stockholm was te zien. Deze ring kocht ik in een soort van kunstenaarscollectief. Ik was zo trots op mezelf, dat ik die dagen alleen goed had doorgebracht.
Aan mijn rechterhand draag ik deze gouden ring: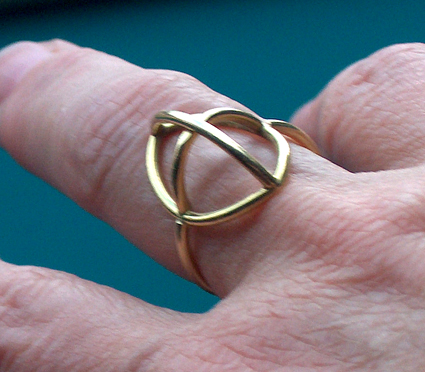 Het is een cadeau van al onze vrienden ter gelegenheid van onze vijfentwintigste trouwverjaardag. De ring is ontworpen en gemaakt door vriendin/edelsmid Ingrid Adriaenssens. Ze liet zich inspireren door mijn persoon: een open iemand met ronde vormen.
Tegenwoordig maak ik ze soms zelf en ik koop er ook vaak eentje. 'k Vind het heel leuk om een opvallende ring te dragen bij een voor de rest sobere outfit. Soms heb ik wel zin om een verzameling textielringen op te zetten, maar waar eindigt dat dan weer ;-))
Hier zijn een paar van mijn recentste aanwinsten. De meesten zijn handgemaakt.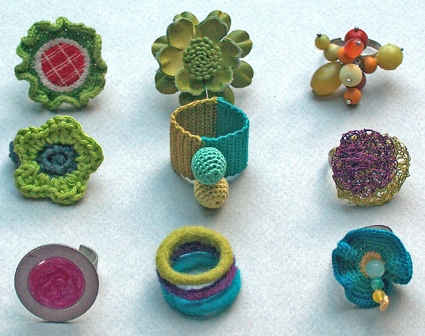 Van links naar rechts en van boven naar onder:
1. Karlita – 2. Fleurfatale – 3. zelfgemaakt op een workshop bij Zahia – 4. De Handfabriek – 5. zelfgemaakt – 6. Nanouke – 7. gekocht bij De Wereld van Oz – 8. gemaakt op een workshop bij De Wereld van Oz – 9. mijn nieuwste ringontwerp.
Since I was a teenager, I have something with rings. In a strange way though: I did not wear one! I wanted to save this place on my fingers for a ring I got from a boyfriend. And yes, when I was almost 21 I met my husband and he offered me a small silver ring (the third from the left on the first picture).  The other rings on that picture are also symbolic: my wedding ring, a white gold ring I got from my parents when I became 21, and  a ring I offered myself when I was alone in Stockholm on a city trip long ago.
The golden ring on the second picture is a present from our friends on our 25th wedding anniversary. The ring was designed and made by our friend Ingrid Adriaenssens. She let her inspire by my person: an open mind and round forms.
And lately, I'm again into rings. I love to wear a tsriking ring combined with a simple outfit. You can click on the names under the picture to see where the rings come from. Some of them I made myself (nrs 3, 5, 8 and 9). Only one of the whole lot is not handmade (nr. 7).
And this is my latest ring design. I made these flowerrings before, but now I added some semi-precious beads. You can find this ring here in my Etsy-shop.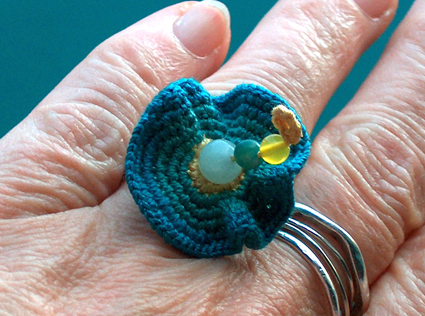 Enjoy your weekend! In Belgium it's a long weekend, Monday is bank holiday!