(English text below)
Wat een zalig weekend ligt er achter mij.
Jullie weten dat ik verliefd ben op Gent, de stad waar ik woon. Maar nu was het er toch wel uitzonderlijk mooi. Midden het historische centrum (Graslei, Koornlei) lag het vol oude platbodems …
Hierbij  foto's. Ze zijn  niet van mij, maar van Anne Temmerman, een fotografe die ik leerde kennen via Sjamma en mijn creatieve uitstapjes.
De Graslei overdag: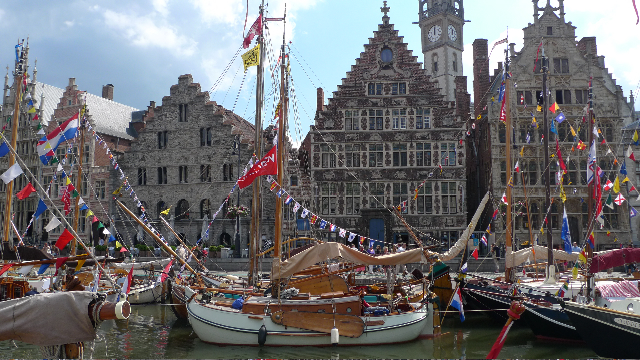 En bij nacht: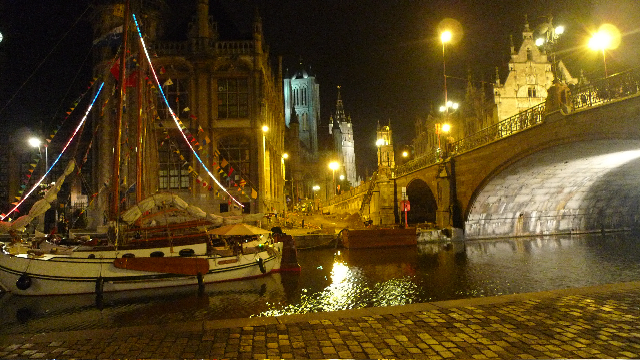 En ook dit is Gent. Elke vrijdag, zaterdag en zondag is er de rommelmarkt bij Sint Jacobs (Beverhoutplein). Deze foto is ook van Anne. Ze gebruikte het truitje van de zoekende klant als inspiratie voor een eigen breiwerk. Zo zie je maar dat inspiratie om elke straathoek schuilt.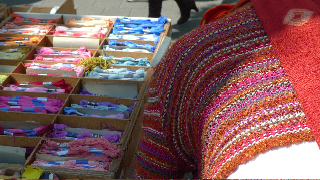 En het was ook mijn verjaardag. Het was heerlijk aperitieven in onze stadstuin: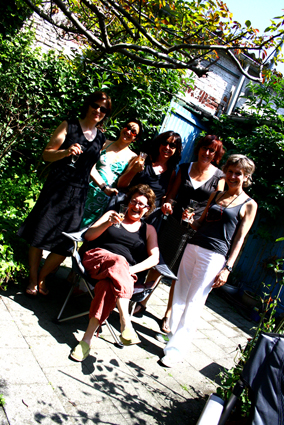 De cadeautjes waren om van te snoepen: veel lekkers, een bijzonder mooi boek dat mij zal inspireren om verder te werken aan mijn African Diva's collectie. En dit goedgevonden grappige ding: een mooie glazen doos vol sesamzaadjes … met binnenin een paar echte mooie kralen verstopt.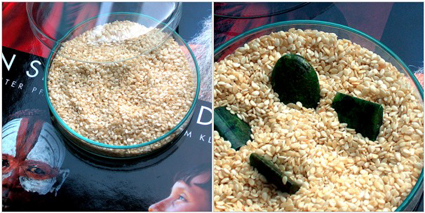 You know that I love the city I live in. Gent is just beautiful. And this was certainly the case last weekend. It was full of old wooden sailing boats in the historical centre (see the first two pictures, made by a friend of mine Anne Temmerman). Anne also made the third picture: a snapshot taken on the weekly flea market only 3 minutes walk from where I live.

And as it was my birthday, I invited some friends to take an aperitif in my garden. Great! Look at one of the funny presents I got: a lovely glass jar with, at first sight only sesame seeds. But look closer: my friend hided some really beautiful beads inside. I took the pictures of the glass jar on a beautiful book I got from another friend: it's full of pictures of ethnic jewellery…what a source of inspiration!