(English text below)
Gedurende de weken die een tentoonstelling voorafgaan, komt er altijd een moment dat ik mijn collectie wil afronden en mij meer bezighoud met praktische dingen (hoe presenteer ik de juwelen?, welke hapjes zal ik maken voor de receptie?, …). Maar echt volledig haakloos door het leven gaan, dat zit er toch niet in.  Ik zoek dan iets eenvoudigs, wat achteraf dan toch weer geslaagd blijkt.
Zoals deze reeks snoeren bij voorbeeld. Kleurtjes bij mekaar zoeken, en oogjes haken. Ze zijn op onregelmatige plekken in mekaar gehaakt, om zo wat volume te creëren. Ik gebruikte ook rood koperen en jade ringetjes, dat kan je beter zien op de detailfoto's op de site.
Klik hier om alle  foto's van deze reeks te zien op de fotopagina van mijn website.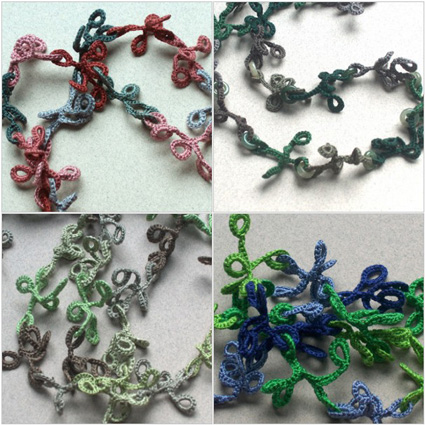 When I'm preparing an exhibition, there is always a moment that I (temporarily!) close my collection. Then is the time to wonder how I will present the jewels, what snacks I will prepare for the opening, … But spending days without crocheting is not possible 😉 Then I start something simple as this series. It's all about corcheted 'eyes ' hooked one in another as to make some volume.
Click here, to see all the pictures of this series of necklaces on the photopage of my website.