(English text below)
Sinds zoonlief een nieuw fototoestel heeft gekocht, loopt het hier wat vlotter om foto's te maken. We hebben een deal: hij krijgt extra zakgeld voor de opdrachten die ik hem geef.
Eergisteren is hij aan de slag gegaan om een foto van mij te maken. Kym van Kimbuktu wil een blogbericht aan mij wijden en vroeg een foto van mij en/of mijn studio.
Ik voel me toch wel onwennig bij het woordgebruik over de ruimte waar jullie en ik creatief bezig zijn. Ik noem het gewoonlijk 'mijn kamer' of 'boven'. Maar het is ook wel de naam 'atelier' of 'studio' waardig, alhoewel ik die naamgeving eerder associeer met 'echte' artiesten. Het is echt een mooie grote ruimte met veel daglicht.
Oordeel zelf maar: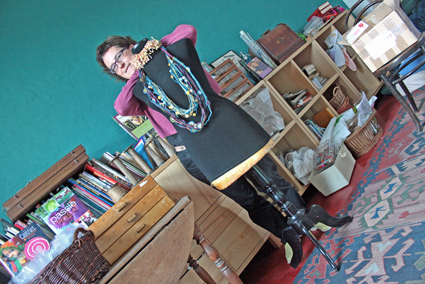 En ik heb er ook wel veel plaats voor boeken. Mijn nieuwste aanwinsten stel ik altijd tentoon. De laatste is een boek van Tricia Guild over inspiratie, met een heerlijke titel 'Passie'! (nu te koop in De Slegte) 'Rien de grand ne s'est accompli sans passion'.
Since my DS bought a new camera, in terms of picture-making, life has become easier. I give him extra pocket money for the pictures he makes for me.
Kym of Kimbuktu asked me for a photo of me/my studio. She wants to write something on me on her blog.
I feel a bit uncomfortable as to giving my workplace a name. I usually call it 'my room' or 'upstairs'. But I must say, I'm very lucky. I have a spacious room with lots of daylight. So it deserves the name 'Studio' or 'atelier').
How do you call your workspace?