(English text below)
Een vreemde eend in de bijt … zo voel ik me wel eens op kantoor. Een beetje buiten het grijze, een beetje buiten de mainstream is al voldoende om er een 'speciale' te zijn. Niet erg, voelt wel ok.
Het haken en creatief bezig zijn, brengt me trouwens helemaal in evenwicht.
En ook dat kan inspiratie zijn.
Ik kreeg het volgende zotte idee:

't Is echt wel een klein snoertje, kijk maar: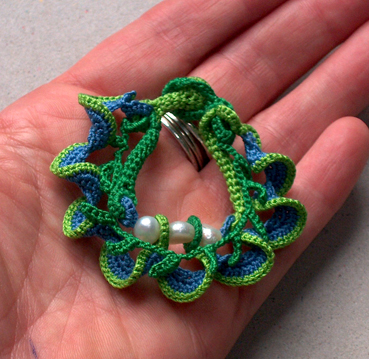 'Een vreemde eend in de bijt', the title of this blogpost is a Dutch expression. Translated literally, it means ' a strange duck in the hole'. Meaning someone who does not really fit in her/his neighbourhood. The dictionary translates is as: an intruder. But for me it doesn't feel necessarily negative. It feels like someone has personility and dares to be her/himself …

I used this expression to illustrate how I sometimes feel at work. Not really fitting in the mainstream. but that's ok, I have my crochetwork to bring me in perfect balance 😉
And I had this funny idea to combine my two worlds in this charming duck.  What do you think? The little necklace is really very small, as you can see on the picture.