(English text below)
Dit was een wijze vraag. Kan je niet iets moois maken voor onze dochter die 16 wordt? Maar het moet tegen een stootje kunnen! Want ze gaat paardrijden en let er dan niet zo op welke kleren ze aanheeft. Ze houdt van de natuur. Haar lievelingskleuren zijn bruin en kaki en alles wat in die buurt ligt. En ze houdt van hout en pluimen en zo.
Ik heb een lang snoer gehaakt dat helemaal aan mekaar is gehaakt, dus behoorlijk sterk. En het kan gewassen worden. Verder zijn er een paar houten kralen in verwerkt en twee hele mooie zaden (waar ik jammer noch naam noch afkomst van ken – het enige wat ik er kan van zeggen is dat ik ze in Brussel kocht).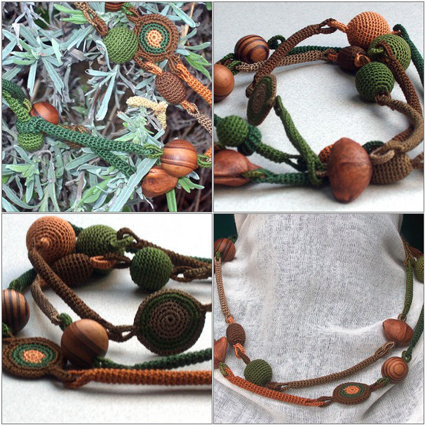 De dochter in kwestie wou uiteindelijk toch liever een ander verjaardagscadeau Рhet was ook zo afgesproken met de ouders dat dochterlief het niet pers̩ hoefde te kiezen. Vond ik niet zo erg. Het was uiteindelijk een mooie aanzet tot inspiratie.
En ik gebruikte het snoer ook voor mijn nieuwe cadeauverpakkinglabels (met dank aan Fleurfatale) :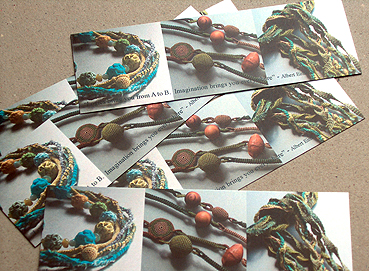 This was a lovely question. Could you please make something for our daughter's sixteenth birthday? But it has to be strong and not too delicate. Cause she loves horseriding and doesn't think of changing clothes before doing so. She loves nature. Her favourite colours are brown and kaki and all what lies in this colour palette. And she likes wood and feathers.
So I made this long necklace. All crocheted together, which makes it strong I guess. And I added some lovely wooden beads and two seedpods (of which I don't know the name, sorry).
In the end the daughter preferred receiving another birthday present, which I perfectly understood and which we also agreed upon beforehand.
But it was a ver fine challenge and inspiration source. I also used it for my new giftpackinglabels (designed by Fleurfatale!).