(English text below)
Gisteren was het zover: het pakje van de geheime afzender!
Mijn cadeautje kwam uit Finland, van Aino aka Illusia. Kijk hier eens naar haar Etsy-shop. Aino is duidelijk in de ban van recyclage. Ook mijn cadeautje was zo: twee mooie vilten mandjes uit wollen truien.
Er kon geen beter moment en geen aangepaster cadeau zijn dan spullen om iets in op te bergen.
Aangezien zoonlief morgenavond een bende vrienden te logeren heeft, werd van mama verwacht haar atelier beschikbaar te stellen. Gisterennamiddag dus welgezind opgeruimd. En voor die ene keer dat het wat netjes ligt, ook een paar foto's van mijn werkruimte: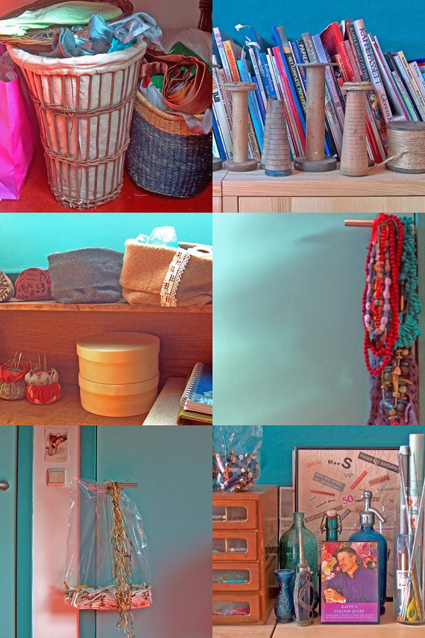 1. manden vol zijden stofjes, daar gebruik ik al mijn rieten boodschappentassen voor, waarvan de handvaten stuk zijn geraakt -2. stapels knutselboeken, allemaal naast mekaar -3. goed kijken: rechts zie je de twee rieten mandjes die ik van Aino kreeg – 4. een hele hoop textiele sieraden, eigen werk maar ook creaties van anderen (als je goed kijkt, zie je er ook een sjaal van Karlita tussen hangen) – 5. nog een deurklink, met een plastiekzakje waarin ik alle lege bobijntjes verzamel (ik heb zo al een ganse zak vol) – 6. oude handwerkbak voor draadjes en kralen met een dvd van mijn all-times favourite: Kaffe Fassett (een schitterende DVD trouwens: een reis door Vietnam en India op zoek naar kleur).
Yesterday arrived my secret easter bunny parcel. It came all the way from Finland, from Aino – aka Illusia. Here is her Etsy shop. Aino is a recycling girl, that's for sure! So was the lovely present I got: two felted bowls made from old sweaters. So well done!
The present couldn't arrive at a better moment than yesterday afternoon.
As my 17 year old son, invited some friends to stay overnight tomorrow, mum was kindly requested to offer her workplace as bedroom for that gang. To make enough room for these youngsters, cleaning was really necesarry!! It was so nice to have these two new bowls to put little things into.
And on this very rare moment, my workplace is a little bit cleaned, I took some pictures to share with you.
1. old shopping baskets full of silk fabrics -2. lots and lots of handicraft books -3. on the right: the lovely bowls of Aino – 4. my small textile jewellery collection – 5. a plastic bag in which I keep my empty cordonnet bobbins -6. an old thread cupboard full of bobbins and beads.
So, hope you liked this peep into my workplace.