(English text below)
't Wordt elke dag spannender  in het Europese Etsy kamp. De cadeautjes van de geheime paashazen beginnen toe te komen, de laatste cadeautjes worden verstuurd, we worden aangemaand om de deadline niet te overschrijden zodat er geen paashaasweesjes overblijven,…
Een hele organisatie overigens, met een reuzepluim voor de Hasseltse Mitsy van Artmind die dat allemaal bereddert!!
Mijn pakje is al weg en ik kreeg inmiddels ook al bericht dat het is aangekomen in Budapest/Hongarije. Ik was de geheime paashaas van Judit aka Vadjutka.
Ik heb haar antwoorden op de standaardvragenlijst een paar keer doorgelezen en nam de volgende antwoorden mee in mijn inspiratietocht: haar lievelingskleuren (o.a. groen, rood, oranje, …), ze is allergisch voor metaal, ze vindt Kjoo de mooiste Europese Etsyshop (die had ik zelf ook opgegeven als favoriet – zit overigens bij de links op mijn site)), haar favoriete materialen (o.a. stoffen), …
Dit is het geworden: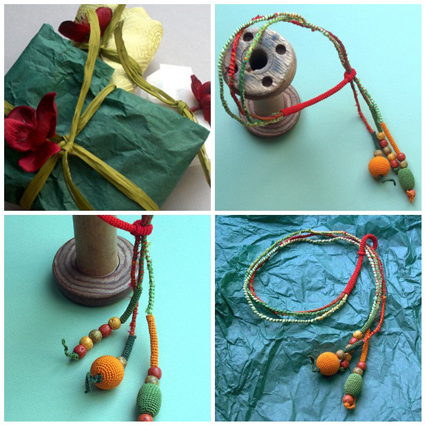 There's been quite some stress in Etsy's European StreetteamI Today was the deadline to send your secret easter bunny-parcel. I sent mine two weeks ago and I know it has arrived yet. So I can now reveal what was wrapped in the gift paper.
Big applause for Mitsy of Artmind who organized  all secret easter bunny thing.

I was Judit's aka Vadjutka's secret easter bunny.
From the answers she gave to all Mitsy's questions I learned something of her favourite colours (o.a. red, green, orange, …), her allergies (metal), her favoourite shop (Kjoo), her favourite materials (a.o. fabric, ..). So that was the inspiration for making the necklace you see in the pictures above. I also added some squares if silk fabric and silk thread .. a crafter is always longing for new supplies 😉