(English text below)
Deze ochtend om vier uur opgestaan voor een vlucht vanuit El Prat om 6u40 … Het heeft langer geduurd om van Zaventem naar Gent te geraken dan om van Barcelona naar Brussel te vliegen.
Maar, we hebben wat zon meegebracht!
Barcelona was zaaaaaaaaaaaaaaaaalig. Heerlijk weer, gepicknicked in Parc Guël en op het strand, cava gedronken en tapas gesnoept, … En geen enkele draadjeswinkel bezocht ;-))
Is er een betere gelegenheid om het mozaïekprogramma van Flickr eens uit te proberen dan met een paar foto's uit één van de hoofdsteden van de mozaïek. Ik vind die mozaïekfoto's in een blog echt wel tof. Dacht altijd dat je daar een kei in Photoshop moest voor zijn, maar het kan veel makkelijker. Bighugelabs is de toverformule (met dank aan alle Etsy-meisjes die deze tip hebben doorgegeven). Ik heb me dan maar een account aangemaakt op Flickr, voorlopig gebruik ik die nog enkel voor foto's waar ik mozaïekjes wil mee maken, misschien steek ik er later meer in.
Voilà , hier is ie: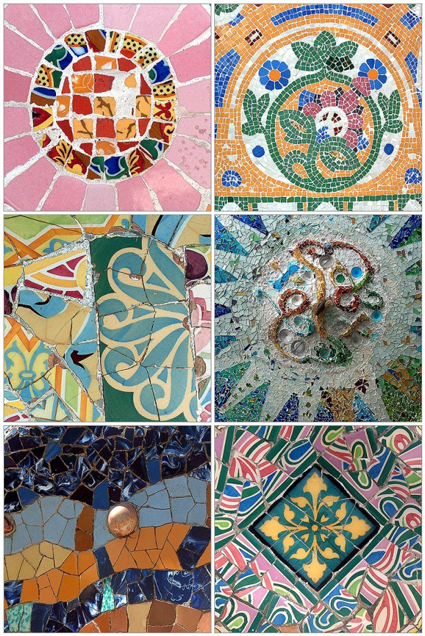 En nog meer mozaïek. Kort na de middag heb ik nog een Treasury op Etsy te pakken gekregen. Tja, wat anders dan Barcelona kon mijn thema zijn. Je kan mijn selectie hier zien.
What could be a better occasion to try out a mosaic program, than pictures from one of the capitals of mosaic. I always thougth that one had to be a Photoshop specialist to make these lovely mosaics, but there is something much more simple: Bighugelabs.

Still more mosaic: I grabbed a Treasury on Etsy. What else than Barcelona could be the theme of my selection; You can see my list here.