(English text below)
't Was een drukke week met al die inzendingen voor de wekelijkse 'challenge' van het Europese Etsyteam. Je kan ze allemaal zien in het vorige blogbericht.
Janebofelt (Rusland) heeft gewonnen. 't Is niet echt een wedstrijd, dus wordt er eerder iemand gekozen die voordien nog niet heeft 'gewonnen'. Het nieuwe thema is 'Combination of dissonant'- materialen, texturen, kleuren combineren die op het eerste gezicht niet te combineren zijn. 'k Ben nieuwsgierig wat dit wordt …
Of ik meedoe is niet zeker. Beetje tijd te kort vermoed ik. Want: we vertrekken morgen voor een korte citytrip naar Barcelona!!! En ik hou een blog- en haakpauze.
Om dit bericht toch wat kleur te geven, hierbij een foto van de voorbereidende fase van m'n derde 'la mariée"-snoer. Nog heel wat draadjes in te stoppen … De rest van de foto's volgt op een ander keertje. Of anders gluur je maar al eens hier.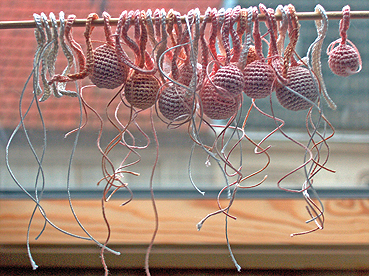 Last week was quite busy, with the Etsy challenge and so. You can see all the entries in the previous blogpost.
Janebofelt from Russia was the winner. She choose as the new theme "Combination of dissonant', meaning combining things (materials, textures, colours etc.) which are not posiible to combine at first sight.
I take some blog- and crochetrest for a few days. Tomorrow we're leaving for Barcelona !
On the picture: some preparatory work for my third 'La mariée'-necklace. It's already in my shop here.