(English text below)
Wie had dit gedacht: ik heb de 'weekly challenge' van het Europese clubje van Etsy gewonnen. Was wel spannend om te volgen op de 'thread' hoe Vadjutka de winnaar aankondigde … een beetje opbouwen en zo.
Ze had gekozen voor 'someone new and innocent' , 'innocent' verwijzend naar mijn trouwfotooke 😉
Dus nu ben ik de "queen' en is het aan mij om een thema voor te stellen. Ik koos voor 'TON SUR TON'. Wie wil meedoen, moet mij nu tegen maandagavond een foto doorsturen. De inzendingen krijgen jullie allemaal te zien op deze blog.
Mocht ik zelf meedoen, zou ik deze armband kunnen insturen. Ligt al een tijdje te wachten op enkel een sluiting en nu , voor deze gelegenheid, klaar! Helemaal in rood: er zitten wel zeven soorten zijden draad in en een zijden lint. En hij sluit met een rode corozoknoop.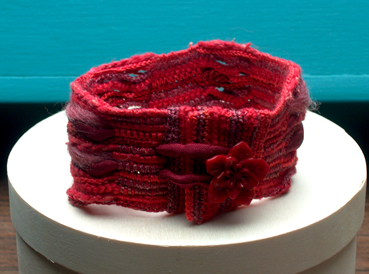 Guess what: I won the weekly challenge of Etsy's Europeanstreetteam. See my post on the brooch with recycled materials.
Now I am this week's 'queen' and it's my turn to propose a new theme for the next challenge. And this is it : 'TON SUR TON' (working with one colour). I await entries by next Monday. And I will show them all in this blog!

If I should be a participant, I could e.g. enter this bracelet. I made it a few month ago, but it was still waiting for a closure. So, this was the perfect occasion to finish it. There are at least seven different silk yarns, a silk ribbon and a red corozobutton.
Wordt vervolgd!
To be continued!