(English text below)
Waar een uitgevallen draadloos internet al niet goed voor is … Om mijn 'gemis' te verbijten heb ik een aantal bijna afgewerkte spullen, toch helemaal afgewerkt.
De witte kralen van dit snoer liggen er al een aantal weken. Ze waren nog niet geregen omdat ik er ook wat parels en kralen bij wou. En wit heb ik niet in voorraad, 'k ben toch wel eerder een kleurenmens.
Bij Zahia kan ik natuurlijk altijd terecht voor wat ik niet in huis heb. Parels kopen dus. Bij de technische fiches op de website van Zahia, staat een interessante uitleg over cultuur- of zoetwaterparels. Cultuurparels zijn geen valse parels. 't Komt hier op neer: bij natuurlijke parels is het vreemde voorwerp in de schelp er op natuurlijke manier ingekomen; bij cultuurparels heeft de mens een handje geholpen. De oester (of ander weekdier) maakt rond dat vreemde voorwerpje parelmoer aan. Hier is de link naar Zahia voor de bewuste info.
En hier is dus het tweede bruidssnoer.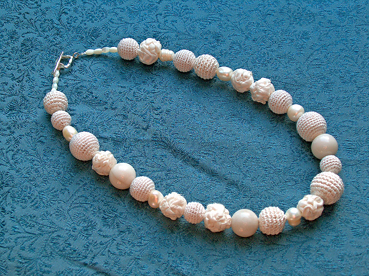 En zeggen dat ik zelf super eenvoudig ben getrouwd (1980). Mijn moeder, die kantklost, had toen bloemetjes geklost om in mijn haar te spelden. Hier is een fotootje: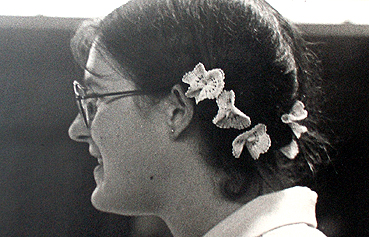 En dit heb ik ook nog, het kroontje van mijn moeder op haar huwelijksdag (1955):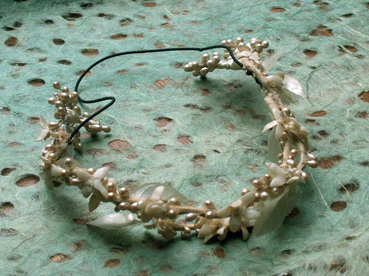 As internet failed Friday night, I spent my evening finishing some projects waiting for some of my spare time.
All those white crocheted and white fabric beads were not only waiting for some of my spare time, but also for some beads or pearls to combine them with.
I don't have white beads in my reserves, neither pearls … But as my favourite beadshop is only 5 minutes walk from my home, I found and bought there what I was looking for. On Zahia's website is an interesting explanation about natural pearls and sweetwater pearls. The latter ones are not false pearls. The main thing is that the 'strange' object that forms the pearl in the shell, came in either by nature itself or by men who put it inside the shell. Natural pearls are expensive, sweetwater pearls are affordable.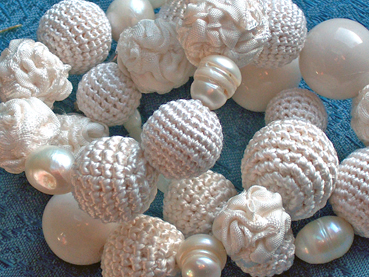 I put some of these sweetwater pearls in this white necklace.
I myself had a very simple dress and almost no jewellery on my wedding day (in 1980). On the picture you can see the bobbinlace flowers my mother made to put in my hair.
The other picture is my mother's weddingcrown which she wore in 1955.