(English text below)
Valentijn's dag is de perfecte dag voor dit blogbericht 😉
Kijken jullie ook naar 'De Designers'? Deze week moesten de kandidaten een bruidsjurk ontwerpen. 'k Wist wel dat een grootse modeshow eindigt met een superbruid, maar ik kende het begrip 'la marieé' niet. Waar televisie kijken al niet goed voor is.
Al sinds ik met die collectie Le Quattro Stagioni ben begonnen, ligt er al een kommetje witte kralen klaar. Witte gehaakte (in drie soorten van witte zijde) en witte zijden stoffen kralen. En nu ik dus die inspiratie heb voor deze mooie titel, heb ik al één van die witte halssnoeren afgewerkt. Er is er nog eentje op komst.
Nog meer redenen om dit snoer af te werken waren:
– ik heb nog een mooi boeket witte bloemen staan, mooi om foto's te maken en
– ik kreeg gisteren een grappig Valentijnskaartje, ook leuk als achtergrond voor een foto (op de foto kan je de tekst niet lezen, maar er staat 'Vertrouw ook met Valentijn niet te veel op hem – hahaha – 't is eigenlijk zo'n gratis kaartje met reclame voor een dating site)
Dus, dit is nummer één in de 'la mariée'-collectie: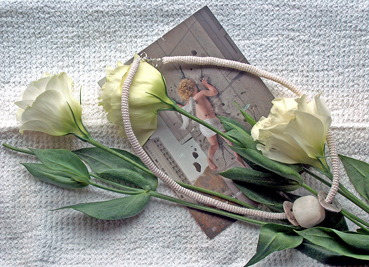 Van deze zijden  witte cordonnet heb ik op Ebay eens een bobijn van 300 meter kunnen kopen. Ik kan dus voluit gaan haken zonder om mijn voorraad te moeten letten. Mijn andere bobijntjes hebben slechts 10 meter zijde … dat moet ik dus wel in het oog houden.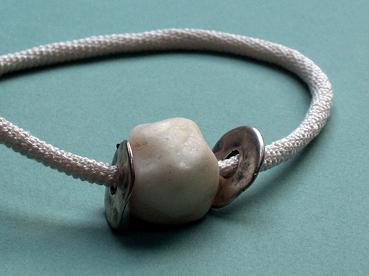 Blije Valentijn iedereen!
I had several reasons to start a 'wedding collection':
– white is the only colour of my silk cordonnet of which I have a bobbin of 300 metres (all the rest has only 10 metres)
– I have such a lovely bunch of white flours in my house now, that I felt the need of finishing one of my white necklaces so I could use the flowers to make pictures
– and I received a funny Valentine's card. I hit the text on the postcard but it says: 'don't reckon too much on him this Valentine's day' 😉 In fact is one of those free postcards, advertising a dating site 😉
The necklace will soon be in my Etsy-shop. And there is more to come …
Happy Valentine everybody!