(English text below)
Sinds ik met dat Etsy-shopje ben begonnen, moet ik alsmaar beslissen waar ik voorrang aan wil geven. Ideeën genoeg, maar mijn collectie African Diva's en Il Quatro Stagioni mogen niet bedolven worden onder de Etsy-items. Een beetje discipline dus 😉
Voorbije dagen toch nog iets gemaakt voor het shopje. Een halssnoer met stofjes èn haakwerk èn kralen. 't Was een goeie manier om weer wat 'verloren voorwerpen' te verwerken. Ik heb heel potje vol staan met gehaakte kralen en nog veel meer potjes met gewone kralen … allemaal mooi spul. En 't is wel plezant op zich om die dingen eens als inspiratie te gebruiken.
Dit snoertje is er een resultaat van: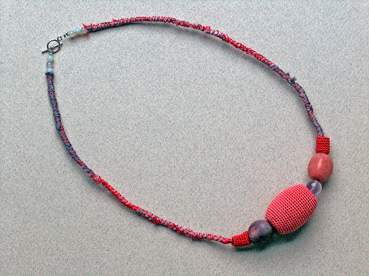 Met die grote gehaakte kraal had ik ooit andere plannen, maar hier komt ie ook tot z'n recht. Alles is geregen op nylon gecoate staaldraad, slotje eraan en hop: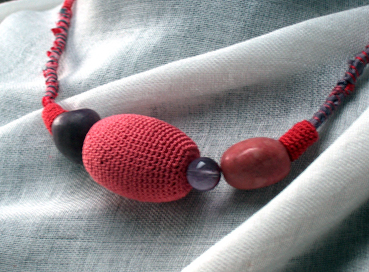 Oh, wat zou ik daar graag ganse dagen mee bezig zijn …
Hier kan je 'm zien in het winkeltje. Daar zijn ook nog meer foto's.
Ik heb de indruk dat ik nu toch meer buitenlandse bezoekers op mijn blog krijg, leuk!!! En af en toe ook een mailtje met commentaar op mijn werk. Voortdoen dus!
Since the moment I've opened this Etsy-shop I'm constantly in dubio of what to do first. Making items for the shop, or designing more for my African Diva's or Il Quatro Stagioni collection. I don't want my collectionwork to get burried under the Etsy items.
But, I did make another necklace for the shop. I have quite a lot of crocheted beads, that  I  once intended for other projects. It's nice to use this unused material as an inspiration for new projects.
On the pictures you see this necklace combining both silk fabric, silk crochet work and other beads.
And here you can see the necklace in the shop and more pictures?