(English text below)
Met Etsy bezig zijn is soms echt (maar heel leuk) werken): foto's maken, ze photoshoppen, een artikel in het winkeltje plaatsen (beschrijven, euro's omrekenen in dollars, cms omrekenen in inches,…). En de Europese Etsy-madammen zijn wel een actieve bende.
Er is een soort van forum (de 'thread') waar velen een babbeltje komen doen. En elke week stelt iemand een 'weekly challenge' voor. Het is een thema waar ieder zich dient aan te houden, maar dat vooral de bedoeling heeft inspiratie aan te scherpen en nieuwe mogelijkheden uit te diepen.
Het thema van vorige week was 'recycling', voorgesteld door Vadjutka uit Hongarije. Het zit namelijk zo dat wie de challenge wint, ook het thema voor de volgende week mag voorstellen. En alle inzendingen zijn dan ook te zien op haar blog.
't Zal mij zeker niet lukken om elke week mee te doen, maar een luie zondag gaf wel wat ruimte om deze broche te maken.
Er zit vanalles in. De raffia van een geschenkverpakking van zaterdagavond: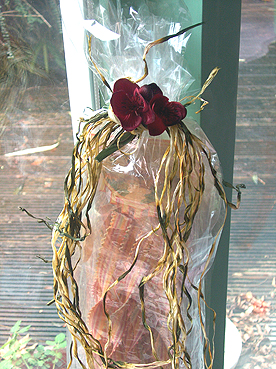 Verder ook nog stukjes van oude dassen: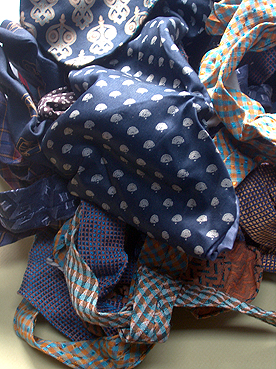 En een plastiek zakje. Nog iets bijgeleerd over een plastiek zakje overigens. In Nigeria, waar één van mijn gasten van afgelopen zaterdag net drie maanden had gewerkt, wordt het een 'waterproof' genoemd.
En hier is mijn deelname aan de 'challenge':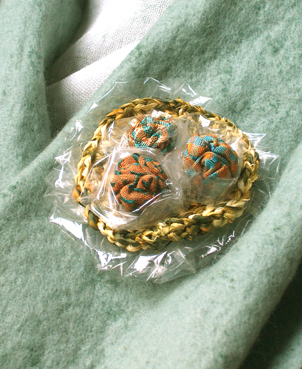 Ik gebruik verder maar gewoon 'challenge', want ik hou helemaal niet van de term 'een nieuwe uitdaging' 😉
Verder heb ik op Etsy ook al 'secret admirers', dat zijn mensen die mijn winkeltje bij hun favorieten hebben ondergebracht maar dat liever voor zich houden.
En deze avond is het mij de eerste keer gelukt om mijn lijstje met favorieten in de schatkist te stoppen. De 'treasury' is de verzameling van een hoop favorieten van Etsy-mensen. Er kunnen maar een beperkt aantal van die lijsten in de schatkist. Als ze vol is, moet je wachten tot er voldoende aantal lijsten zijn vervallen.   Hier vind je mijn Treasury van deze avond (vervalt op donderdag rond halfzes).
Being an Etsy member is really (fun) work sometimes: making pictures, photoshopping, describing, converting cms in inches and converting euros in dollars,…
The Europeanstreetteam (the European Etsy-shop owners) are an active group. There is a.o. a 'thread' (a kind of a forum) and there is of course the'weekly challenge'. Someone chooses a theme that is the guideline for making new things. It's goal is to give new inspiration and discover by yourself new possibilities to create.
Last week's challenge was 'recycling'. it was chosen by Vadjutka from Hungary., who had won the previous challenge and so could choose the new one. All entries of the challenge can be seen on her blog.

On the pictures above the recycled material I used to make the brooch.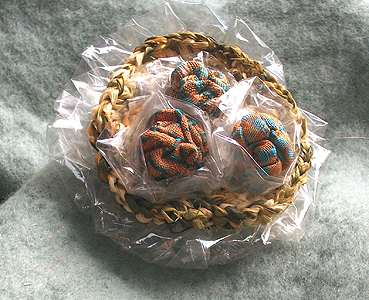 Another Etsy-happening is the Treasury. It's a number of lists in which people show their favorites. Here you can see mine (it expires this Thursday about 5.30pm).