(English text below)
Mijn atelier is op de derde verdieping van ons huis, een zolderkamer.
Ik had gedacht dat het er nooit zou meer zou van komen maar DH heeft de moed om te beginnen aan onze traphal. Alles moet hersteld en geverfd … een titanenwerk.
Grappig, elke avond als ik na 't werk thuis kom en snel even mijn laptop check boven, moet ik een ander parcourstje afleggen om in mijn atelier te geraken. DH legt allerlei materiaal op de trappen waar ik wel of niet mag lopen. Zoiets: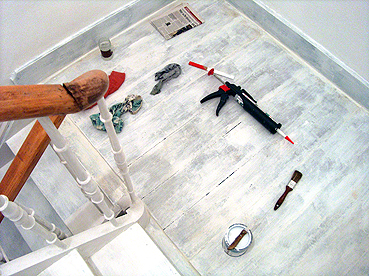 En wat vind ik dan: een rommelige werktafel waar vooral veel ideeën achter schuil gaan … Tja, opruimen, de materialen weer vast pakken geeft vaak alweer inspiratie …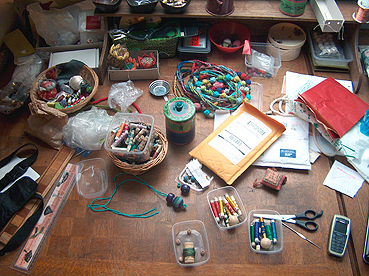 Gisteren en vandaag met een snoer bezig geweest. Een nieuw idee dat maar een goeie twee uur vraagt. Een doe-het-zelf halssnoer.
Ik heb een grote houten kraal omhaakt met zijden streepjes, een paar kralen met een groot gat erbij en dat alles op een zijden lintje . Mogelijkheden zat.
Echt als een hanger: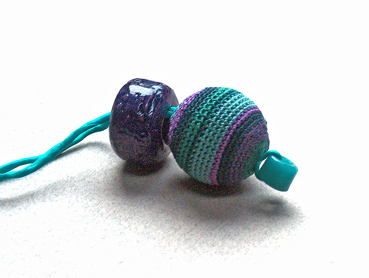 Of gewoon alles naast mekaar geregen: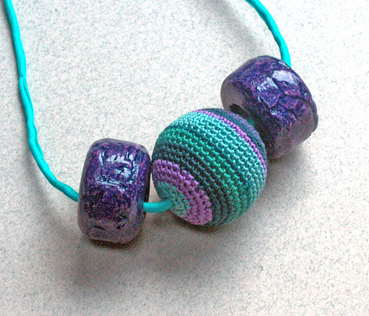 Of onderaan geknoopt: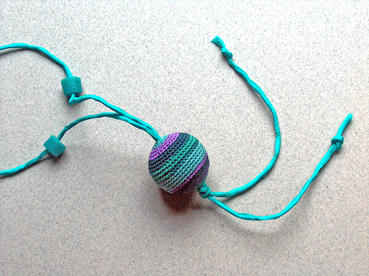 My DH started repairing and redecorating our staircase. As my working place is under the attich, I find every day other signs on my way up. He marks where I can walk and where not 😉
And I started a new idea for a pendant/necklace. I crocheted the large bead and I added ceramic beads and glass beads. Lots of possibilities to combine them.