Het tweede snoer voor African Diva's is ook klaar.
Ik probeer ook foto's te maken van mijn inspiratiebronnen, zowel van de vorm als van de kleurtjes.
Heerlijk is het om in boeken te snuffelen tot het begint te borrelen, en dat duurt meestal niet lang …
Hier dus een eenvoudig snoer. Een tube die dikker is dan wat ik tevoren deed (deze is 14 vasten in het rond). En, ik heb ze rond een katoenen touw gehaakt. Dit leek me wel nodig voor de stevigheid. Het snoer is halflang en ligt haast als een cirkel rond je hals.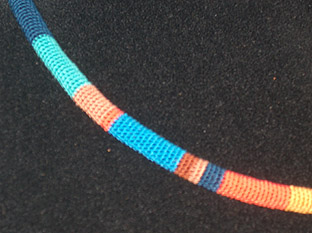 De inspiratie van de vorm ligt in het beeld dat ik gewoon al had over een Afrikaans snoer met kraaltjes. Zoals je hieronder b.v. ziet.
De kleurtjes komen van een stof: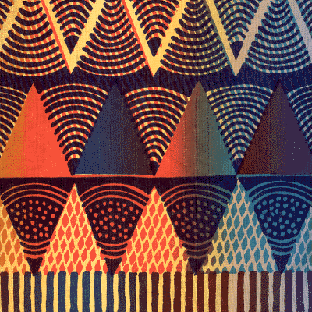 En dit is het geheel: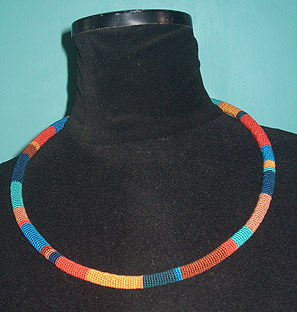 Zoals je kan zien heb ik al één van mijn twee oude paspoppen opgekuist. Ze was nog redelijk in orde, een goeie poetsbeurt was voldoende. En ze heeft een zwart stofje, als dat geen goeie achtergrond is voor mijn African Diva's collectie 😉
Meer foto's zijn er voorlopig niet. Ik wacht op betere lichtomstandigheden en ben ook op zoek naar een mooie neutrale achtergrond.
This is my second African Diva's necklace. I will always try to show you pictures of my sources of inspirations.
Above you can see some pictures of half long simple African necklaces with lots of small beads. The colours are inspired by an African wax fabric.
This necklace is thicker than the tubes I usually crochet. This tube was made with 14 stitches in the round. And I crocheted it around a cotton cord, as to make it tougher. And also, this way you can really drape it as a circle around your neck … like an African diva!