Ik dacht altijd dat 'op bestelling' werken niet echt iets voor mij was. Maar ik heb er nu eentje gehaakt en dat was best leuk!
Dit was de opdracht: een kort snoer van ongeveer 43 cm, met paars en zwart en grijs (of in dat gamma, het moest zeker bij zwart passen), met herhalende kleuren, iets in de aard van de petroranje snoeren, …
En dit is het geworden: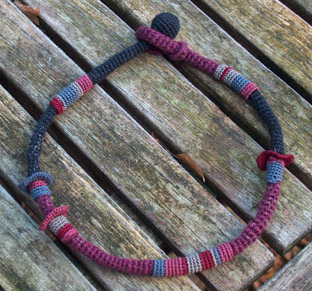 De basis van het snoer is handgesponnen zijde in aubergine en in puur zwart. Op sommige plekken heb ik één draadje grijze stikzijde meegenomen bij de kleurovergangen. Verder werd er bovenop het basissnoer gehaakt in vijf bijpassende kleuren zijden cordonnet.
Eerst had ik er niet die schijfjes bijgehaakt, maar dat extra volume maakt het wel 'af' vind ik zelf.
Als slotje heb ik een grotere bol gebruikt dan gewoonlijk. Het heeft het voordeel dat de ring rond het slotje eventueel losser kan worden aangesnoerd (dat maakt het snoer korter), dan valt de bol er nog niet uit.
De rest van de foto's vanaf hier.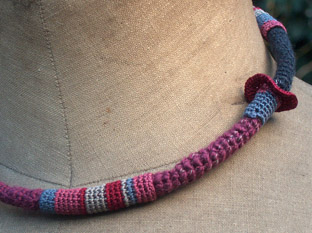 I've always thought that making custom orders was not my cup of tea. But the previous days I've been busy crocheting one and I must admit: I liked it!
These were the orders: a short necklace, something with repeating colours, it has to match with black clothing with a preference for black, purple and grey, if possible some volume like my series of necklaces in orange and teal blue.
You can see the result in the first picture. At first I didn't intend to add the small disks, but I think they really add something to the necklace.
As you can see on the second picture I added a small grey silk sewing thread when passing from one colour to the other in the basic necklace (which is crocheted with handspun silk).
More pictures from here onwards.
p.s. voor de Gent(en omstreken)enaars: (gelezen op de blog van Yarnlot) . Er is in Stoffenidee (de stof- en wolwinkel in de Hoogpoort) vanaf vandaag tot en met 12 januari een tentoonstelling over Rowan Yarns! Ik heb die leren kennen via Kaffe Fasset, absoluut mooi materiaal. Ik ga zeker eens kijken. Meer info op de blog van Marie Paule.