't Is al haast een maand geleden dat ik die workshop 'Sier(dr)aden voor kids' in het Miat begeleidde.
Aanvankelijk waren er niet veel inschrijvingen, maar een aantal 'proefkonijntjes' sloot aan bij ons groepje. (Proefkonijntjes is een woensdagnamiddagactiviteit in het Miat, waarbij kinderen vrij kunnen aansluiten om telkens een andere creatieve activiteit te doen. Meer info hier).
Bij de start waren niet alle kinderen even gemotiveerd, maar naar het einde toe, viel het best mee.
De bedoeling was het vingerhaken aan te leren. Er was slechts ��n meisje dat al kon haken (met een haaknaald, vingerhaken had ze nog niet gedaan). Doodjammer vind ik dat, op school is nog weinig ruimte voor creatieve uitingen … Ook al zijn haken en breien vanouds 'vrouwelijke handwerken', je kan er zo gelukkig van worden om daar mooie dingen mee te doen.
Het vingerhaken bleek moeilijker dan gedacht. Sommigen waren er direct mee weg, bij anderen lukte het ook naar het einde toe niet echt.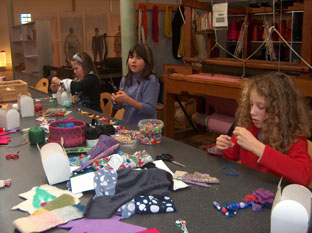 Als textiele kralen maakte we een flosje (twee kartonnetjes met borduurdraad errond, doorknippen, vastknopen in het midden met een draadje, …). Het resultaat daarvan vonden ze allemaal wel leuk. De meesten hebben er nog een aantal bijgemaakt.
En verder werd het arsenaal kralen aangevuld met lapjes vilt (geknipt met een kartelschaar), stoffen strikjes, gewone houten kralen, … En van een Miat-vrijwilligster kregen ze nog een stapeltje gehaakte bloemen.
Daarna alles op de uitgekozen sierdraad geregen. En met vingerhaken het halssnoer vorm gegeven.
Toegegeven, wie dat vingerhaken niet leuk vond heeft gewoon alles geregen.
Een goeie vondst, vond ik zelf, .-), was daarna het snoer in een cadeauverpakking steken. Ik had het gevoel dat ze trots waren op hun zelfgemaakt cadeau voor de mama.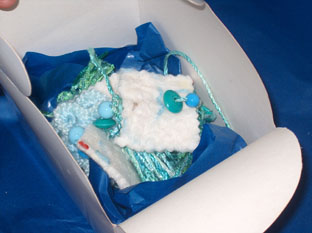 Vanaf hier kan je alle foto's zien.
This post shows the results of the workshop fingercrocheting for kids I gave some weeks ago. Not all the kids were equally motivated. But in the end, they all had a necklace, nicely giftwrapped.
First I taught them how to fingercrochet. Then we made several textile beads (with felt or other fabrics, or embroidery thread).
From here on you can see all the pictures.