(English text below)
Een paar maanden geleden werd ik gecontacteerd door iemand van de creatieve ploeg van Veritas… 'Of ik een aantal juwelen wou ontwerpen voor hun krant'? Ja dus!
De betreffende krant ligt sinds een paar weken in de winkels. 't Is bovendien gratis! Allen daarheen!
(Wie mij volgt op Facebook, wist dit al…dus nogmaals een oproep om mijn pagina te liken: Nevousinstallezpas)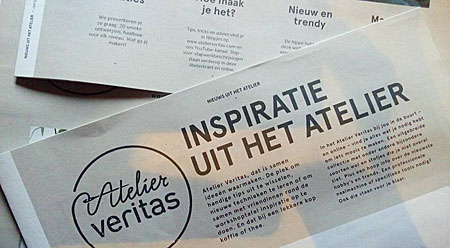 –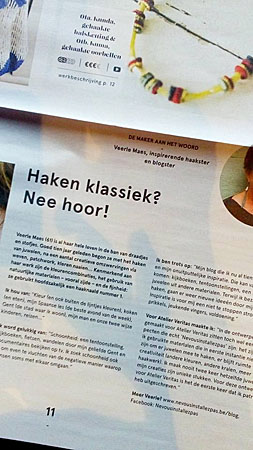 Mijn concept was: ik vertrek van twee basiselementen (1. een schijfje – 2. een 3D-kraal) en ontwerp daarmee een aantal juwelen.
Navenant het gebruikte materiaal (zijden cordonnet, borduurgaren, haakkatoen) , is het ontwerp/effect toch weer helemaal anders. Dat vertrekpunt vond ik juist leuk én typisch voor Nevousinstallepas.
Het concept zelf  is toch wat verloren gegaan in de publicatie. Maar ik besef wel dat ontwerpen, en die ontwerpen/patronen dan vertalen naar een publicatie en lay-out, twee verschillende verhalen kunnen zijn.
Op de website van Atelier Veritas vind je een aantal patronen (het was voor mij de eerste keer dat ik werkbeschrijvingen heb uitgeschreven van mijn juwelen) en tutorials (jawel, daarvoor ben ik naar een professionele photoshoot geweest – nooit te laat voor 'eerste keren')
Hieronder een paar beelden van the making of….daar moest ik maanden over zwijgen , maar nu klaar om jullie te tonen.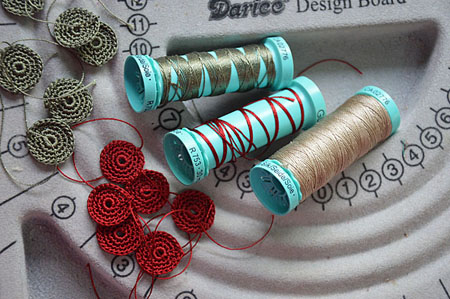 –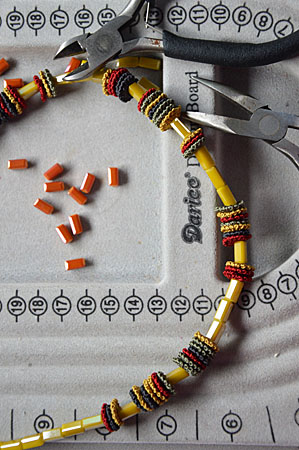 –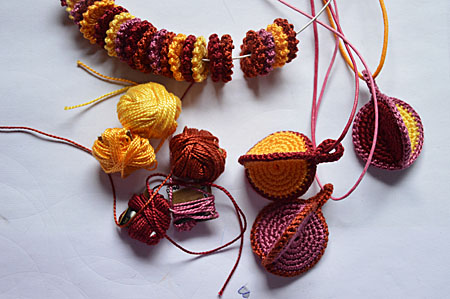 –
–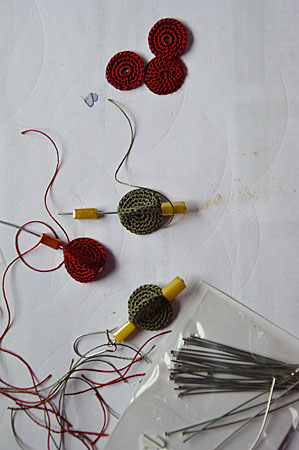 –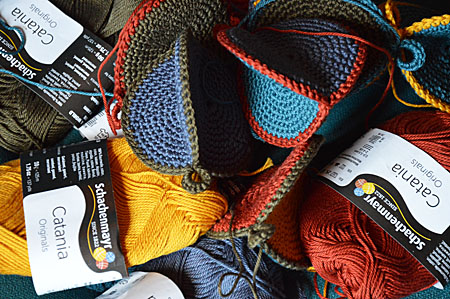 –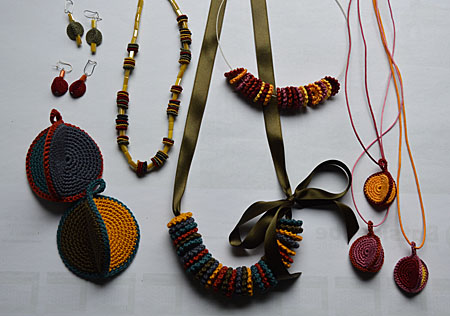 –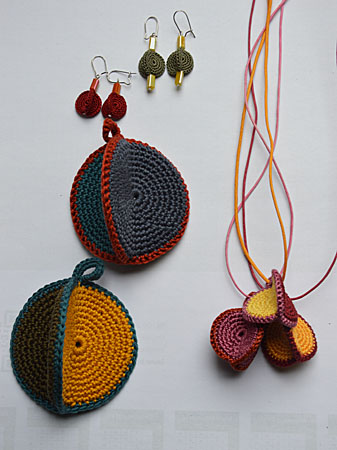 –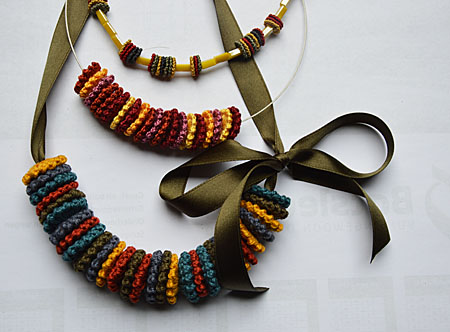 Some months ago,  I was asked by Veritas whether  I would be willing to design some crocheted jewellery for their magazine.
Of course I would!
My concept was to start from two elements (a disk and a 3D-bead) . By using different materials (silk cordonnet, embroidery yarn, crochet cotton yarn) ,  I designed different jewellery.
Check the Atelier Veritas website for patterns and tutorials.
Above some pictures of the making of.
The magazine is now in the Veritas shops. It's  free and it also exists in French.
I already mentioned this on my Facebook page. Please feel free to like my page to get more info on textiles and my crochet work. Nevousinstallezpas