(English text below)
Het lijkt herfst.
Nieuwe routine: wachten op deftig daglicht om foto's te maken, op weekdagen 's avonds met lichtere kleuren haken en de donkere reserveren voor weekenddagen,… Maar sowieso krijgen blogberichten meer lezers als de zomervakantie ten einde is! 😉
't Is misschien omdat ik al zoveel juwelen heb liggen, of omdat ik het toch ook wel fijn vind om met andere materialen dan zijde te werken , of omdat het uitproberen van voor mij ongekende haaksteken voldoening geeft, of omdat ik het niet kan laten om garens te kopen als ik op reis ben… afgelopen zomer vooral sjaals gehaakt. En dan nog wel mannensjaals (of unisex zo je wil).
Ik merk dat ik bij het ontwerpen van een sjaal voor een man, toch andere overwegingen maak. Ik put uit een ander kleurengamma, ik zoek reliëfsteken, ik zoek grotere motieven,… Echt andere materialen zijn niet nodig, de combinaties die ik maak met alles wat ik in huis heb, geven meer dan genoeg  passende mogelijkheden.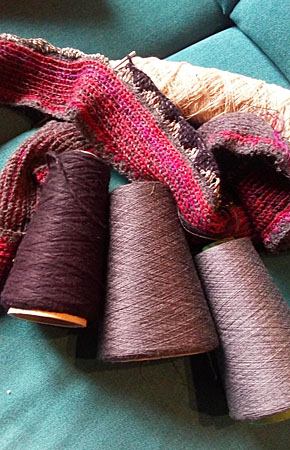 Deze sjaal is een cirkelsjaal, gewoon zwart-rood-wit. Het laat zich misschien niet onmiddellijk aanzien, maar hier zitten een tiental verschillende draden in.
Lengte (in het rond): 154 cm – breedte: 25 cm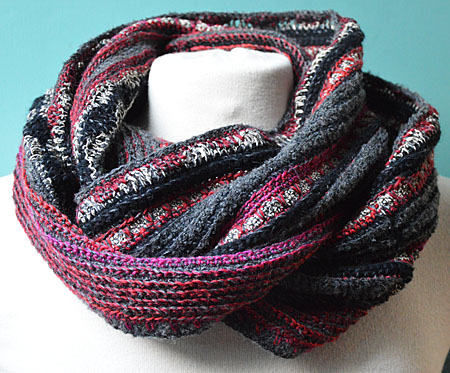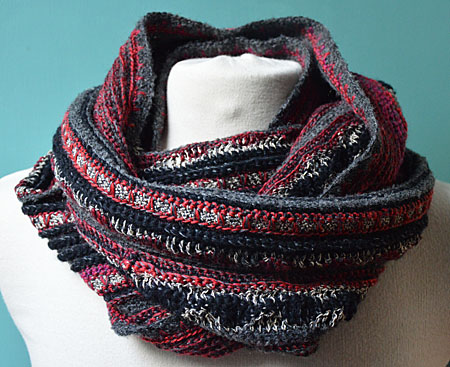 –
–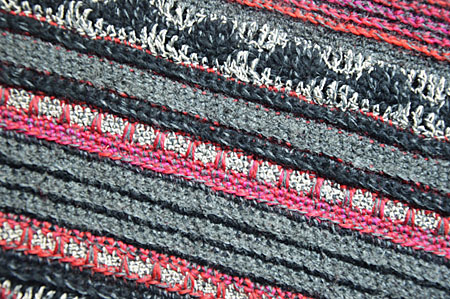 –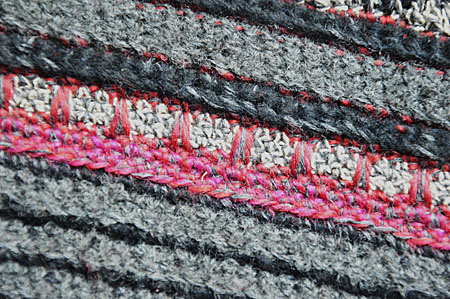 –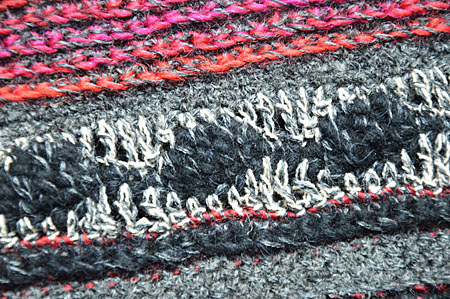 –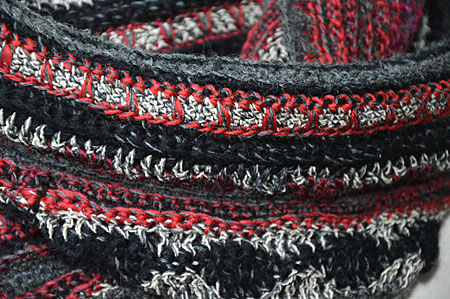 –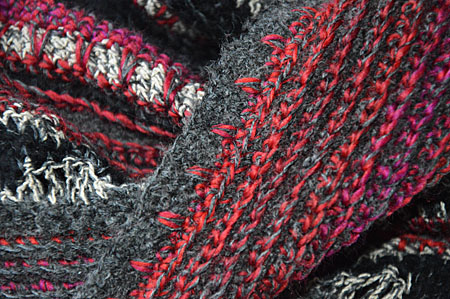 Seems like automn…
Which starts new routines: waiting for good daylight to make pictures, crocheting with light colours on weekdayevenings and reserving the dark colours for weekenddays. Anyhow: once the summer holidays are over, my blogposts get more readers! 😉
The previous summer I' ve been busy crocheting some scarfs. Especially men's scarfs (or unisex scarfs if you wish).
Which made me shopping in other colourcombo's, trying out other crochet stitches,…
This scarf is a circular scarf in black-red-white. It contains at least 10 diffferent yarns.
Total length: 154 cm – width: 25 cm