(English text below)
Ik leef nog! 🙂
Vier maanden zonder blogposts. Wel in april de 10de verjaardag van deze blog klein gevierd.
De voorbije vier maanden liepen wat trager, zonder evenwel stil te vallen.
Ik heb nu een Nevousinstallez pagina op Facebook. (ga naar Facebook, zoek Nevousinstallezpas, 'vind ik leuk' en klaar is kees). Op die pagina post ik vaker dan op mijn blog; Je vindt er b.v. foto's van mijn garenaankopen in Stockholm, Parijs en Amsterdam (ja, juli en augustus waren citytrips maanden). Ook van een paar tentoonstellingen die ik zag en waar ik de textielobjecten uitpik. Nu ik een smartphone heb,vind ik dit makkelijker werken dan te passeren via mijn fototoestel en mijn laptop. Vooral veel foto's dus en snel volgend op mijn tentoonstellings- of winkelbezoek, tussendoorfoto's van lopende projecten, …
Op mijn blog zal ik blijven posten over mijn eigen werk. Het fenomeen blog is niet meer zo populair als een paar jaren terug, maar het blijft mijn eigen archief. Er is a zoveel vluchtigs, laat het schone maar in een trager tempo gedeeld worden. Dus zet ik door.
En ik heb ook behoorlijk wat gehaakt de voorbije maanden, vooral sjaals . De volgende weken meer berichten daarover.
Verder was er een opdracht waar ik pas in het najaar meer kan over vertellen, maar dat horen jullie dan wel.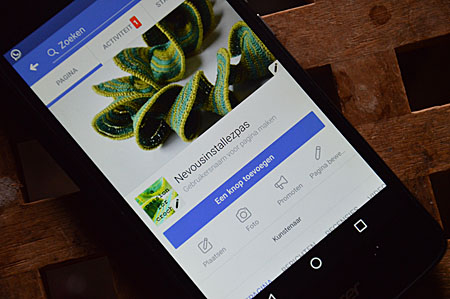 I'm still alive and kicking!
Four months without any blogpost, but celebrating in the meantime the 10th anniversary of this blog!
I have now a Nevousinstallezpas page on Facebook (go to Facebook, search Nevousinstallezpas, 'I like' and watch all my textile posts with lots of pictures)
But I will continue my blog as well. Although blogs are not as popular as they were, I still consider it as my personal archive. I feel the need to post on my work in a slower pace as well.
So keep an eye both on my FB-page as on my blog.