(English text below)
Nog tot 26 februari 17 in het Antwerpse Modemuseum (Nationalestraat) : een heerlijke tentoonstelling! Het soort van expobezoek waar ik blij van word: kleuren, meer dan één discipline, wijze invalshoeken, aandacht voor het tentoonstellingsbouwen op zich, nieuwe namen leren kennen, zelfs een aantal gehaakte stukken …  met veel goesting en inspiratie buiten gekomen! 🙂
Je mag er wel geen enkele tas mee  naar binnen nemen, dus niks kunnen opschrijven, enkel wat foto's met smartphonekwaliteit dus. (tja, het notities nemen op mijn smartphone, moet ik nog leren)
Alle info over de expo op de website van het Momu, klik hier.
De tentoonstelling legt de focus op het huiselijke karakter van de werken van Rik Wouters (1882 – 1916) en legt het verband met een trend van vandaag: ambacht, tijd voor traag, zelf doen, …Het werk van Rik Wouters komt uit het KMSK Antwerpen (momenteel gesloten voor restauratie, heropend in 2019), het textiel komt uit het Momu.
De hoofdrol is weggelegd voor zijn vrouw, zijn muze: Nel! Nel strijkt, naait, … is er gewoon altijd.
De tentoonstelling is opgebouwd volgens thema's als 'Opvoeding', 'Cover', 'Naar buiten', 'In het woud',… Elk thema toont werk van Rik Wouters, historische kledij die bij het thema past, en werk van hedendaagse ontwerpers (veel Antwerpse Zes).
Wat foto's: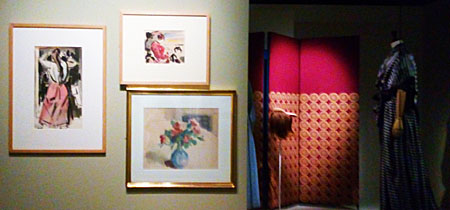 –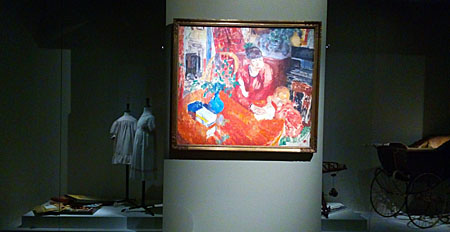 –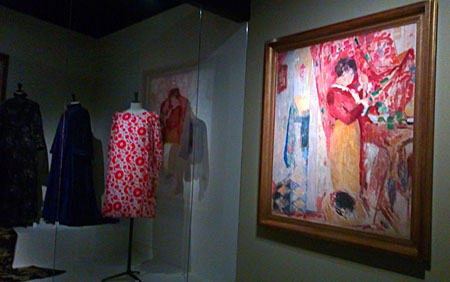 –
–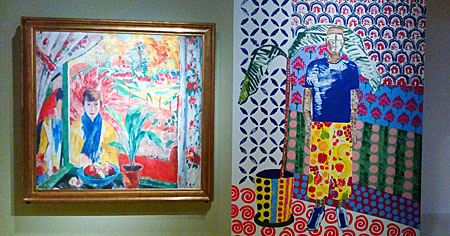 –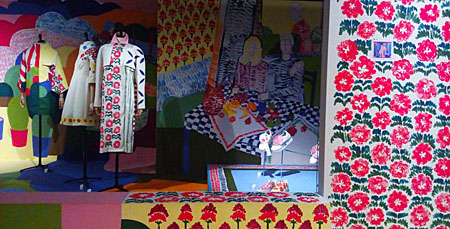 En het haakwerk:
–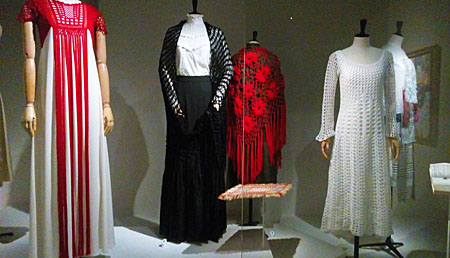 Gehaakte werk v(sierspelden en hoofddeksel) van Bernhard Willhelm: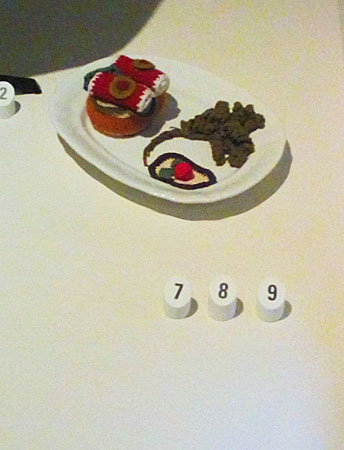 The above report is on my visit of the expo 'Rik Wouters &Â  the private utopia' in the Antwerp Fashion Museum. The expo runs until February 26 th, more info in English on the museum's website, click here.
It really is the kind of expo that makes me happy: colours, very nice expo setting, several applied arts,… and even some crochet work!
Ik kocht geen catalogus, maar wel het prachtige boek (graphic novel) 'Nel, een zot geweld', met tekeningen van Lies Van Gasse en tekst van Peter Theunynck. Zo mooi!!!!
Klik hier door naar de site van Lies Van Gasse, voor meer info.
Eén beeld uit het boek: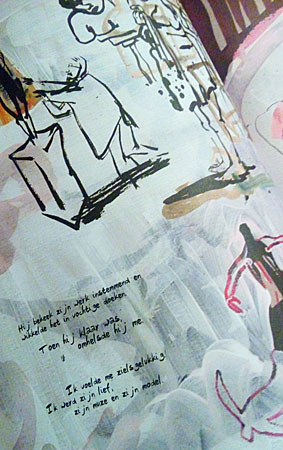 Hij bekeek zijn werk instemmend
wikkelde het in vochtige doeken
Toen hij klaar was
omhelsde hij mij
Ik voelde me zielsgelukkig
Ik werd zijn lief
zijn muze en zijn model.
.