(English text below)
Een tijd geleden vroeg Yoola mij, of ik het zag zitten om één van haar haakpakketten te testen. Yoola is een fenomeen om met metaaldraad te werken … ik volg haar blog al lang.
Zelf probeerde ik eerder wel eens met metaaldraad/zilverdraad te haken, maar dit bleek niet echt succesvol. Dus een uitnodiging om haar techniek uit te proberen, zag ik helemaal zitten.
Inmiddels is het pakket aangekomen: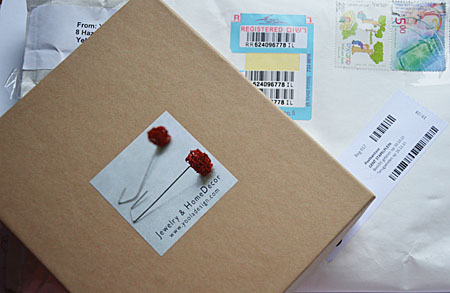 En zo ziet er DIY (do it yourself) pakket van YoolaDesign er uit: metaaldraad, hulpmiddelen, haaknaald, en een DVD.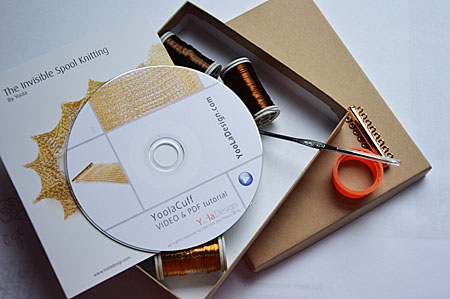 Ik bekeek al eens de DVD. Er zijn twee filmpjes voorzien: een algemene introductie over haar techniek en materialen.  En een film over het specifieke juweel dat je wil maken. Op het eerste gezicht ziet het er allemaal héél duidelijk en doenbaar uit. Héél binnenkort ga ik aan de slag!
Op haar site en blog zie je véél meer.
Ik kom gauw terug met een verslag over de praktijk van deze techniek.
Some time ago, Yoola asked me whether I would like to test one of her DIYÂ  kits of wire jewellery. As up to now, my wire crocheting has not been succesful at all, I said yes. The kit arrivesd!
It contains a crochet hook, metal wire, instruments that can help and a DVD. I watched the DVD today.  It contains a film that introduces her techniques and materials. And another film gives you all the details and tips you need to make the piece of jewellery you ordered.
Do check her website and blog, YoolaDesign.
To be continued soon!