(English text below)
Ja, zo gaat dat hier. Ik begin met iets nieuws en dan krijg ik zin om nog meer uit te proberen.
Nog meer t-shirt yarn dus. Nu, garen geknipt uit een witte t-shirt.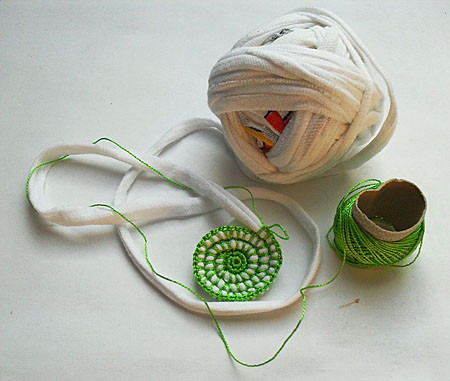 Hier heb ik niet  de draad zelf gebruikt om mee te haken, maar ik hem hem als textuur, als leidraad gebruikt. Met de keuze van de haakdraad, kan je alle kanten uit. Spelen met kleur ligt voor de hand. Het zijn twee pannenlappen geworden.
Ook deze techniek zal aan bod komen tijdens de workshop op het FairFashionFest.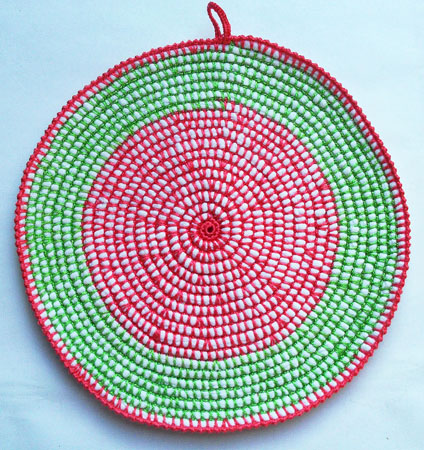 –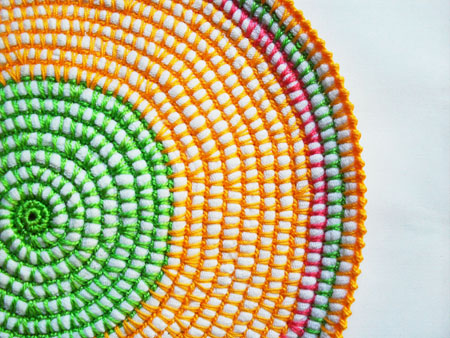 I tried another technique to use t-shirt yarn. I cut this yarn from a white t-shirt. I dit not use it to crochet with, but I used it as a texture thread, crocheted together with colourful other yarn.