(English text below)
Op zondag 1 maart as, wordt in Gent een festival rond eerlijke mode georganiseerd. Het gaat door in het Miat, van 13u tot 18u.
Het festival is nog in volle voorbereiding. Er zijn uiteraard informatieve sessies, er komt een modeshow en een markt en er zijn workshops.
Er is al een website www.fairfashionfest.be ….  maar nog even geduld voor de volledige info. Ik hou jullie op de hoogte!

Je vindt hier wel al het evenement op Facebook.
Ik zal er ook een workshop geven :-)Â  Neen, geen sieraden haken, wel iets dat past bij het concept van dit festival.
We zullen garen maken van oude t-shirts en daarmee haken. Meteen bekijken we ook de labels die in de t-shirts zijn gestikt en wat die vertellen over het traject van dit kledingstuk.
Ik kijk er naar uit en ben volop aan het voorbereiden.
Mandjes gehaakt van zelfgemaakt T-shirt garen:
–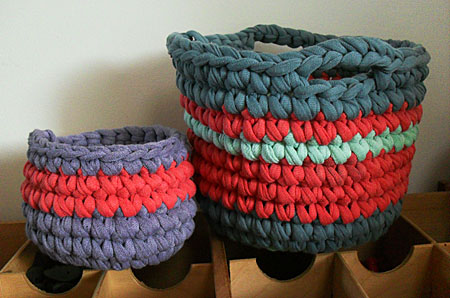 Above some pictures of T-shirt yarn I made. I crocheted these examples for a workshop I'm going to give 1st of March in Gent, on a fair fashion festival.
Check the website www.fairfashionfest.be