(English text below)
Wie op Facebook zit, heeft de voorbij weken allicht al de kunstketting zien passeren.  Het gaat zo, een kunstenaar nomineert vijf anderen, en nodigt hen uit om vijf dagen na mekaar werk van zichzelf te tonen.
Is wel leuk, zo krijg je nog eens wat inspirerend werk van anderen te zien. Want meestal blijft het delen van je werk toch heel snel, versnipperd en voorbijgaand.
Mieke  Recour heeft mij ook genomineerd. Voor wie niet op Facebook zit.  Hier zijn haar vleiende en mooie woorden over mij:
'de dame die haar volk leerde om sieraden te haken'. Veerle, ik bewonder je werk en heb dankzij jou, dikwijls haakwerk in mijn sieraden verwerkt. Niet alleen technisch heb je je stempel gedrukt, ook met wat je vertelde over 'inspiratie' en 'creativiteit'.
Dankjewel !
Vandaag werd Hilde van Galerie Indigo (Damme) genomineerd door Mieke. Haar werk ligt permanent in die galerie. Nog tot 22 februari loopt er ook een tentoonstelling rond 'sacrale symboliek'.
Wat er mij deed aan denken dat ik nog wat foto's had liggen van deze galerie toen ik er in september '14 een bezoekje bracht.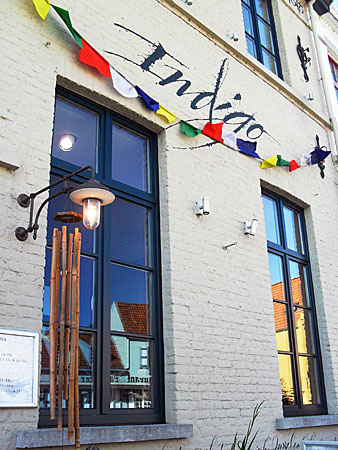 –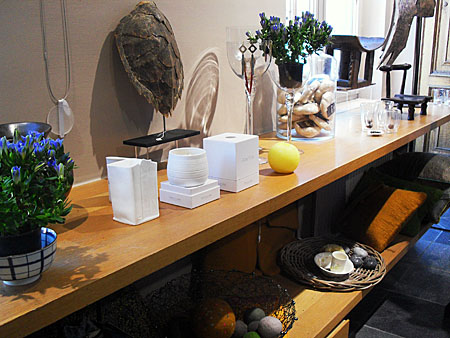 –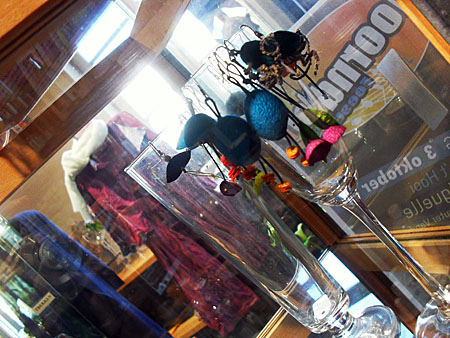 Damme is klein en leuk en er is ook op zondag veel geopend.
Above some pictures of an art gallery in Damme. It's called Indigo.
Mieke Recour's work is there on a permanent basis. Up to February 22th , there is an exhibition on sacred symbols.