(English text below)
Helemaal onverwacht een cadeautje krijgen, dat dan nog te maken heeft met mijn creatieve passie, en dan nog van een collega, daar kan een mens toch alleen maar heel blij van worden (en blijven) 🙂
Een paar weken geleden kreeg ik dit papieren zakje, met tien snoeren parels is. Mijn collega, eveneens iemand die graag reist, gaf me dit. Ze hadden het 18 jaar geleden gekocht op een markt in Nairobi, met de bedoeling het thuis te laten knopen tot een multi-strand snoer. Maar (geluk voor mij), het kwam er maar niet van en ik kreeg het hele pakket cadeau.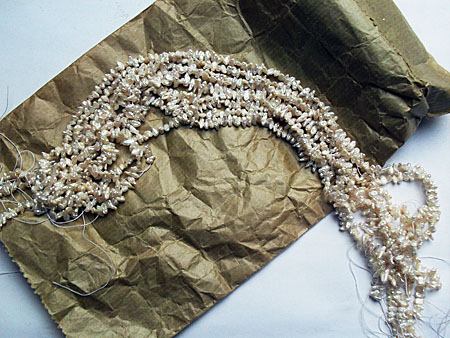 Parels zijn wit, dus inspiratiebron en bijzonder mooi materiaal voor de rood/wit collectie!
Van één snoer maakte ik dit: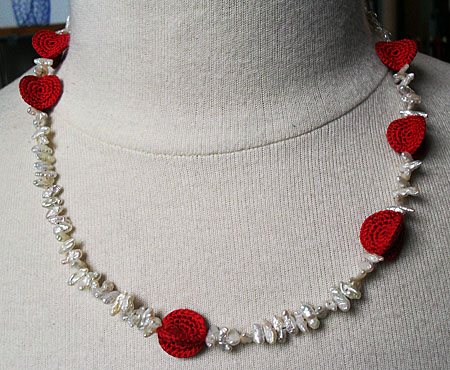 –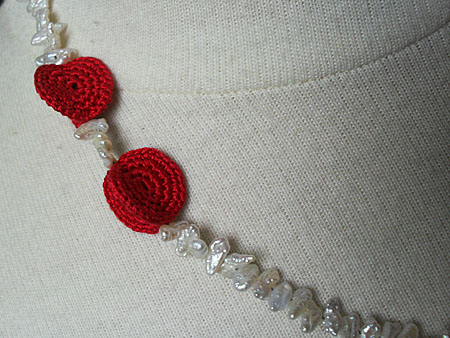 Er volgen nog weel combinaties parels/zijde.
Some weeks ago, a collegue of mine gave me this brown craftpaper bag. What a lovey surpirse: ten pearl strands he bought on a market in Nairobi some 18 years ago. The original idea was, once home, to have them knot. But as they still were as he bought them, he gave them to me, knowing I am passionate about jewellery. Happy me!!
From one of the strands  I made this simple short necklace. And there will follow more!