(English text below)
Mijn blog is jarig vandaag! Zeven jaar!
588 berichten van mij, 1308 reacties van jullie.
Zeven jaar is vrij lang in blogland, denk ik. Ik heb er veel zien starten, zien volhouden of afhaken, zien commercialiseren, …. Ook lezers zijn veranderd.  Er zijn er veel minder, en er zijn er nog nauwelijks die reageren (dat vind ik wel jammer). Een feedback instrument is deze blog niet meer. Door de link van een nieuw bericht ook telkens op Facebook te posten, volgen er wel een aantal 'likes'. Dat is voor mij wel een duidelijk instrument om te zien wat in de smaak valt en wat minder.
Maar ik doe het vooral zelf nog graag. Ik schrijf graag. Een permanente blik op wat potentieel blogmateriaal kan zijn, doet mij anders en aandachtiger naar tentoonstellingen, materialen, lectuur, … kijken. En dat is leuk.
Facebook is razendsnel en vluchtig. Wat mij ook aan het bloggen houdt, is dat ik op die manier een archief heb van wat ik zelf heb gemaakt, van wat en wie mij kan inspireren en boeien.
Ik doe dus gewoon verder! 🙂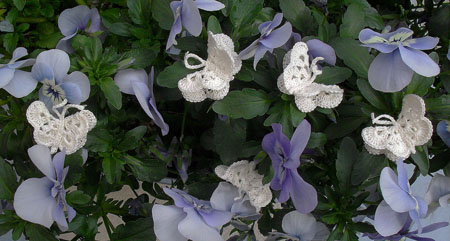 Today, my blog celebrates its 7th anniversary.
588 blogposts of mine, 1308 comments of you all.
I think, in blogland, 7 years is quite some time. I've seen many blogs get started, persevering or quitting, or becoming commercial . Readers as well have changed. They are less, don't comment anymore (which I regret). This blog is no longer a feedback instrument. By posting a link on Facebook every time I post a new message, I get some 'likes' every now and then. It's a barometer to see what you like most or what you don't like.
But above all, I still like to blog. I like writing. For me it's also an archive of all what I made, of what and who may inspire me.
So, I will continue! 🙂