(English text below)
Over de therapeutische waarde van haken worden zelfs boeken geschreven (ik heb hem in huis, maar nog niet gelezen):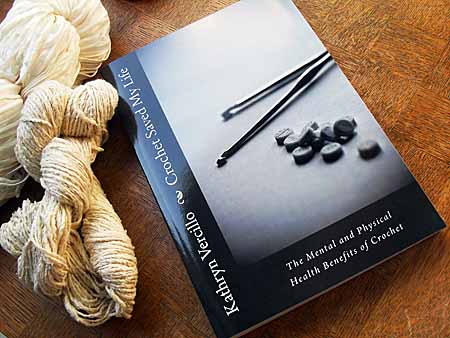 Haken doet van alles met een mens, dat merk ik goed genoeg tijdens de workshops. Een hele waaier tussen extreem enerverend tot buitengewoon rustgevend. Ik behoor zelf tot de laatste groep 😉
Een deel van de ontspanning bestaat uit de vrije loop van mijn gedachten. Haken vraagt geen opperste concentratie, althans toch niet hoe ik werk (ik tel bij voorbeeld nooit mijn steken).
Hieronder een filmpje van de Braziliaanse ontwerpster Helen Rödel, waarin zij verwoordt wat haken voor haar betekent:
Omdat ik zoveel herken, heb ik de moeite gedaan om een deel van wat ze zegt uit te schrijven:
"""
I've chosen to work with slow and manual techniques
in which the numbers are pretty different from industrial production.
And these techniques require extreme patience.
Making the pieces requires a lot of concentration.
It moves so much energy.
It is as if the brain was split in two.
One part coordinates the handwork,
the other the free flow of thoughts.
I like to think of the amount of thoughts and ideas that inhabit each stitch.
When I feel the urgency of knowledge and of interaction with the world,
I feel that we need to balance this aspect of life
by immersing ourselves in a task
that demands much of our patience and time.
To be able to dedicate yourself to an item for so many hours,
building and giving life with every hardship,
is an exercise in patience.
And patience is wisdom.
You move forward but also backwards
and this understanding is crucial to these techniques
because they are constant movements of weaving and dismantling.
It is a metaphor for the progress of life
and the unfolding of time
"""
Above a beautiful and interesting film on the Brazilian designer Helen Rödel on what crochet means for her.