(English text below)
Wat  kan het toch gezellig warm zijn, als de wereld weer eens verrassend klein blijkt.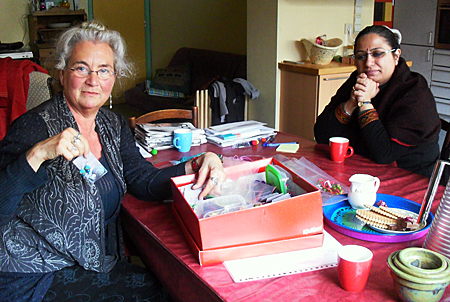 Vier ladies:
1. Ellis – Nederland. Ken ik van toen we een aantal jaren geleden allebei bezig waren met workshops geven in het fairtrade textiel circuit. We mailden toen wat heen en weer en ontmoetten mekaar op de vernissage van de galerie ZeeZandZilver (Scheveningen) waar ik toen exposeerde (2008)Â  (Klik hier als je die foto's nog eens wil zien)
2. Kamaldeep – India. Werd jaren geleden aan Ellis voorgesteld omdat ze zoveel gemeenschappelijke interesses hebben (textielkunst). Ze zoeken mekaar regelmatig op zowel in Europa als in India.
3. Lieve – Gent. Ken ik van mijn Sjamma-tijd en uit het Miat. Ontmoette Kamaldeep in Clermont-Ferrand op een textiel verven-congres.
4. Ikke en de drie voorgaande dames, allemaal in Gent vorige week!
De passie van ons alles: textiel en kleur!!
Lieve is de indigo-madame.
Kamaldeep is ook een kleurenmadame (gespecialiseerd in oude Indische verftechnieken die ze tot een hoger niveau tilt):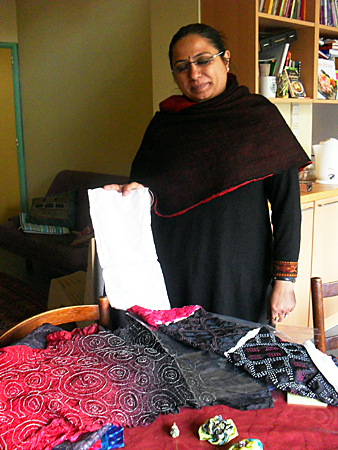 De ontmoeting was puur genieten!
Ik wil nog deze wijze rijkdom meegeven:
Kamaldeep geeft ook workshops en we hadden het erover dat er ook altijd mensen zijn die de grens niet kennen tussen inspiratie en flagrant kopiëren. Waarop ze zei: als je veel gekopieerd wordt, is het tijd om zelf een andere weg in te slaan.
They can copy your designs, but they cannot copy your destiny!
En ik heb twee sjaals gekocht van Kamaldeep 🙂
Last week my textile world became surprisingly small: A lady from Holland, a lady from India and two from Gent, seemed to know each other in some way and all gathered in Gent.  They share this passion: textiles and colours!
Click here for Kamaldeep's website and information on the traditional  dyeing techniques she's specialized in.