(English text below)
Toen ik in het najaar van 2010 de immense artisanaatsmarkt van Otavalo (Ecuador) bezocht, kocht ik er al een aantal tagua-kralen in frisse kleuren. Dochterlief bracht er onlangs ook nog een mooi pakje mee. Aan de slag dus!
Tagua kende ik tevoren niet. Het was via Lotte De Mey  en Mariemoo dat ik er voor het eerst van hoorde. Klik even op deze link van de website van Mariemoo, om zeer geslaagde bewerkingen te zien van een naturel taguanoot (zie de eerste zes ringen).
Tagua is een waardevol alternatief voor ivoor. Het heeft dezelfde kleur en kan evenzogoed bewerkt worden. Het past dus perfect in de filosofie van mijn Pachamama-collectie.
Zo'n taguanoot is behoorlijk groot( 3 Ã  4 cm). Zo'n kralen vragen dus ook een robuuste toepassing.
En voilà :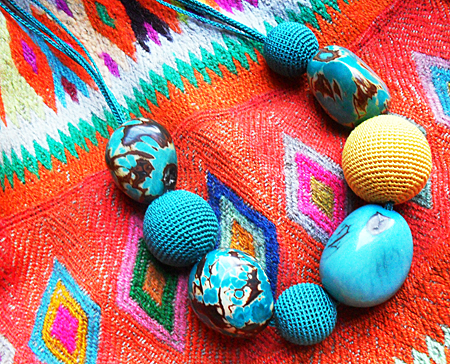 –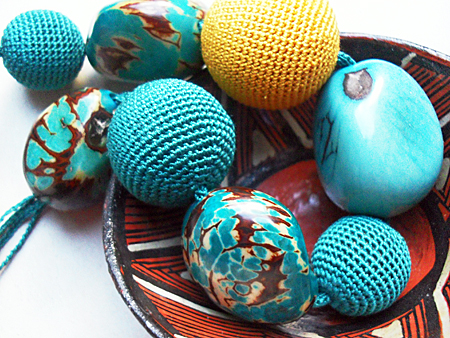 Heb nog even uitgezocht op welke manier ik deze kralen zou rijgen, ik gebruik liefst zoveel mogelijk textiel. Ik overwoog eerst een buisje, maar dit bleek toch net iets te dik om de kralen op te rijgen. En ook: zo'n buisje zou ook wel uitrekken onder het gewicht van de kralen. Het zijn uiteindelijk een aantal gehaakte kettingen geworden.
I really like tagua nut beads. As they are natural beads, they match perfecty into the philosophy of my Pachamama collection. I bought some in Otavalo (Ecuador) end 2010 and my daughter recently brought me some more.

I only got notice of tagua nuts (or vegetarian ivory) a few years ago. They  are a vegetarian alternative for ivory . Click here to watch these very lovely applications of tagua nuts by Mariemoo.