(English text below)
Bij het samenstellen van mijn 'Pachamama'-collectie, wil ik toch iets verder gaan in de keuze van materialen dan het loutere aankopen op het internet. Pachamama, betekent ook respect voor de aarde, voor de mens, …
We zitten met z'n allen zo goedkoop mogelijke halfedelstenen kralen te zoeken, maar wat is de prijs van 'goedkoop'?  Vandaag kosten halfedelstenen  kralen de helft van wat ze twintig jaar geleden kostten …. dat klopt toch niet????
Over de arbeidsomstandigheden van de kralenmakers vond ik weinig info. Wel dit rapport van het Institute for Global Labpur and Human rights.
In India en China, de grote leveranciers van onze kralen, zijn de arbeidsomstandigheden van de arbeiders vaak zéér penibel. Velen lijden er aan 'silicose' (iets als de stoflong van onze mijnwerkers vroeger). Ze moeten werken in benepen ateliers, zonder luchtverversing. Bovendien werken de machines om de kralen te vormen zonder water, en krijgen ze al het stof binnen. Alleen nog maar zorgen voor luchtverversing en machines die met water werken, zou al een hele stap vooruit zijn. Voor wie het hele verslag over halfedelsteenbewerking in India wil lezen, klik hier voor de studie van het Institute for Global Labour and Human Rights over het bewerken van agaat in India. Op het einde van dit verslag, kan je nog  doorklikken naar o.a. een documentaire hierover op You Tube (ook interessant om te zien hoe halfedelstenen kralen worden gemaakt).
Voor glaskralen is deze problematiek minder erg, wegens de andere manier van fabricage.
Over het ginnen van zilver en goud, heb ik het een andere keer.
Een hele kleine druppel op een hete plaat… Een Pachamama-snoer , 'made in dignity' …
De kleine kraaltjes die je ziet tussen het haakwerk, zijn vintage muranoglas (Zahia).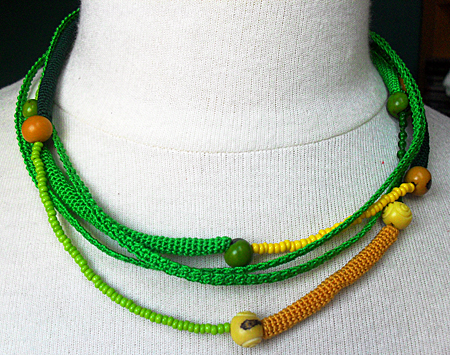 –
–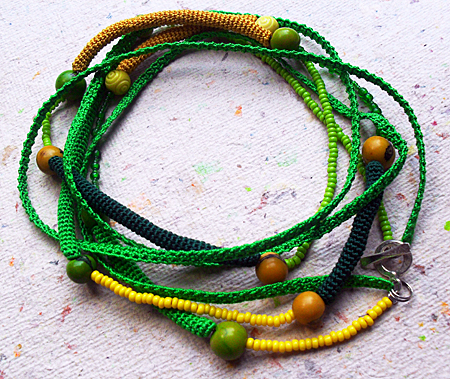 While designing my Pachamama-collection, I reflected that one way our other , I should pay tribute to Pachamama, meaning in respect of mother earth, nature, people, …
I know that lots of us explore the internet to find semiprecious beads at the lowest price possible…. Semiprecious beads cost nowadays half of what they cost twenty years ago …. Is this normal?
I could not find much information on labour circumstances of beadmakers. But I could find a report of the Institute of Global Labour and Human Rights on agate beadmaking in India. People die there of silicosis, because they inhale all the dust of the stonegrinding. It would be such a step forward to use machines that use water and to organize the beadmaking in workshops with good fresh airconditiong.
Click here to read the whole report. At the end you can click on some You Tube links, where you can see o.a. a documentary on working conditions of Indian beadmakers.