(English text below)
Daar kan ik echt gelukkig van worden: van mooi materiaal te vinden (en te kopen ;-)).
Afgelopen weekend was ik nog eens in Lena en Zaza, de mooiste garenwinkel uit mijn wijde omgeving.De winkel is in de Gitschotellei in Berchem (niet al te ver van Berchem-station-). Klik hier voor de website van Lena en Zaza.
Sinds kort is er ook  een Lena en Zaza blog. Je vindt hem hier rechts op mijn blogroll, onder de rubriek 'textile princesses'.
Hieronder mijn aankopen voor de ¿tinto o blanco?-collectie. Ik voel de inspiratie borrelen …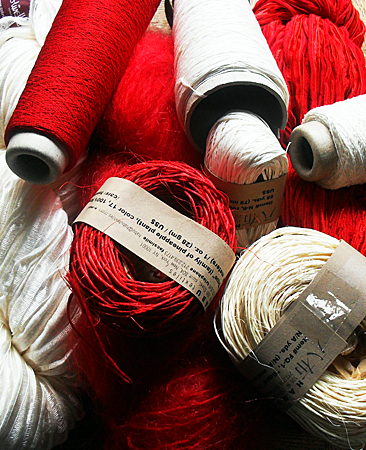 This post is about new, beautiful materials I bought in one of my favourite yarn-shops. Click here for more info on the shop in Berchem (Antwerp).
On the picture you can see what I bought  for my ¿tinto o blanco?-collection.