(English text below)
Ik zou in feite wat Spaans moeten leren, 't is volgende week examen in de avondles …. Maar ik heb ook zin in  haken en bloggen ;-)  Een combinatie van de twee dus.
Dit zal ik al niet meer vergeten: in het Spaans is rode wijn 'vino tinto' en niet 'vino rojo' (da's Italiaans).  En ook eindelijk eens opgezocht  hoe  ik dat omgekeerde vraagteken moet typen in het begin van een Spaanse vraagstelling: alt 0191 dus!
Dit maar ter introductie van een nieuw thema in mijn gehaakte juwelen: wit en rood – ¿tinto o blanco?
Ik vertelde al dat bij de Pachamama-collectie de vele kleuren op één of andere manier (tot nog toe) een rem zijn op het vorm-ontwerpen. Ik ben nu al een paar weken bezig met wit/rood en jawel: pure vorm-ontwerpen
Hier zijn de eerste broches:
porselein, zijde en papier: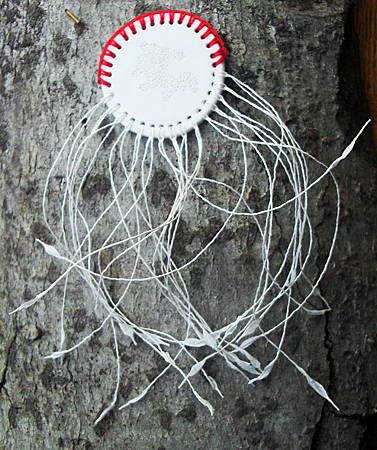 –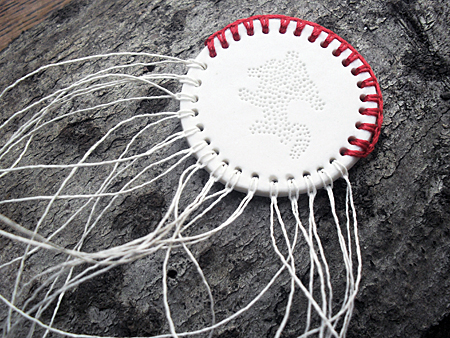 porselein en zijde: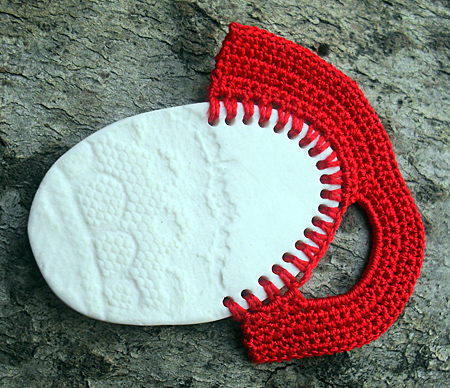 porselein, zijde en zoetwaterparels: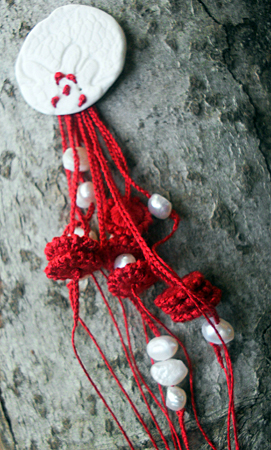 Ere wie ere toekomt, de porseleinen stukken zijn experimenten van Artmind!
In fact I should study some Spanish, as I have an exam in evening school next week. But, I feel like crocheting and blogging 😉
So, let's combine the two.  A new theme in my jewellery: ¿tinto o blanco? In this series I will only work with two colours: white and red. And you will see, that there will be more form-designing (contrary to the Pachamama-collection, which is more colour-designing).
Above some brooches in porcelain, silk, paper and some pearls.
The porcelain parts are made by Artmind!