(English text below)
Ik merk dat de inspiratie voor de Pachamama-collectie op een andere manier werkt dan voor  de African Diva's-collectie. Nu primeren kleuren en materialen volop, bij de Afrikaans geïnspireerde juwelen stond de vorm van bij aanvang centraal.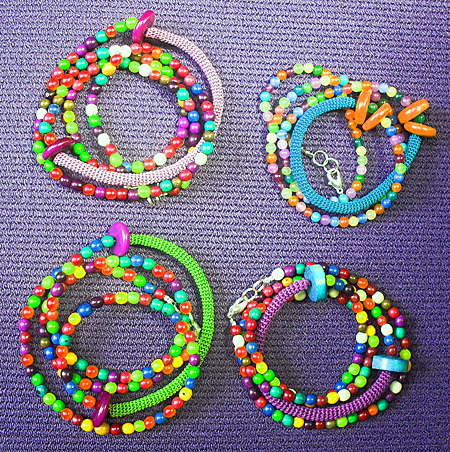 Spelen met kleuren dus. En door  haakwerk en kralen te mixen, gaat het al eens wat sneller. Kijk maar: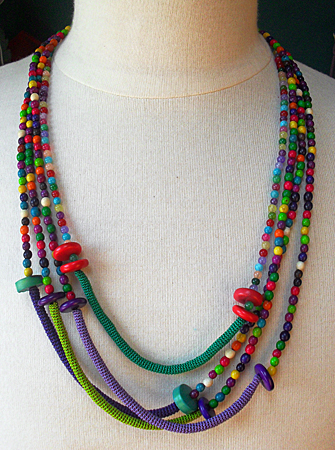 Drie van de vier snoeren zijn haakwerk, gecombineerd met gekleurde mini-acaïzaadjes. Het vierde (en ook het kortste) is een combinatie van haakwerk en gekleurde jade (denk ik toch …).
De snoeren zijn tussen de 65 en de 74 cm lang.  Het gehaakte buisje zit centraal. Variatie: je kan er een knoop in leggen. Wel opletten dat de rijgdraad niet zichtbaar wordt. Gewoon het gehaakte deel wat uitrekken tot aan de aangrenzende kralen … de elasticiteit van haakwerk komt hier nu goed van pas.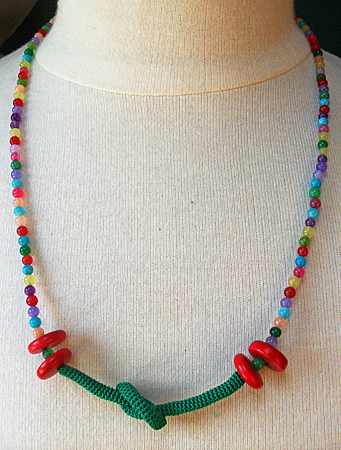 –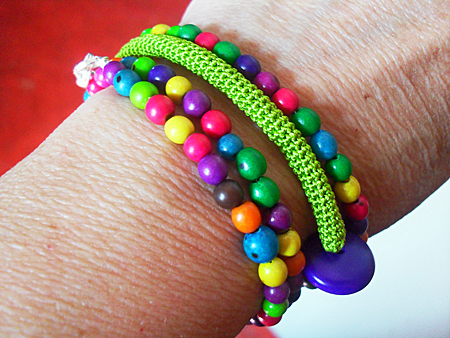 I realize that for this Pachamama-collection, my inspiration works in a different way than for the African Diva's- collection. Now colour and material are guiding me, for the AD collection the form was the most important.
Three of these necklaces are combo's of crochetwork and very small acai-seeds. The fourth (shortest) one is crochet work and jade beads.
On the pictures you can see different ways of wearing the necklace: adding a knod in the centre, or wearing it as a bracelet.