(English text below)
'Sangria' is de naam van de kleur van deze handgeverfde zijde. Ik heb ze begin dit jaar gekocht in Londen, maar ze komt uit Canada.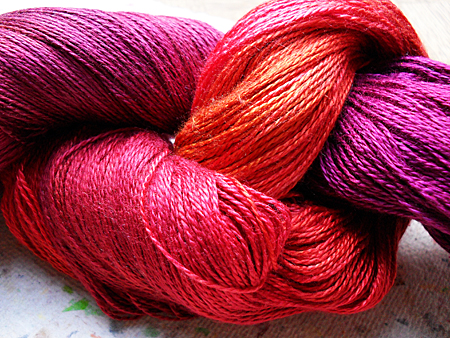 De kleuren waaruit deze streng is samengesteld, waren de inspiratie voor de verdere materiaalkeuze voor dit snoer. Hieronder zie je de buisjes naast mekaar. Vijf maal een verschillend garen. Voor de haaksters: het zijn buisjes van zes steken.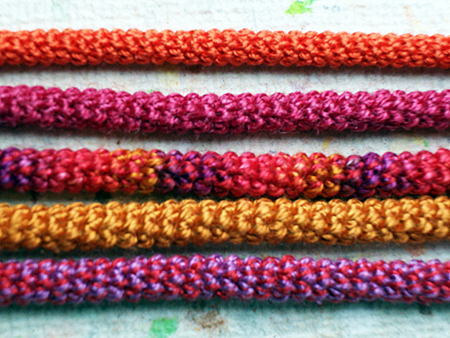 Eén van de draden is 'tussah'-zijde. Dat is wilde zijde, ttz van  zijderupsen die in het wild leven en  levend uit hun cocon zijn gekropen. De cocon is dan stuk, je krijgt dus allemaal korte stukjes draad ipv de kilometers zijde bij cocons waarbij de rups chemisch (of met heet water) is gedood vooraleer ze uit de cocon wou kruipen. Deze tussah-zijde is soms wat onregelmatiger en minder glad, maar sowieso heel mooi materiaal.
Het snoer dus, in z'n meest simpele manier van dragen: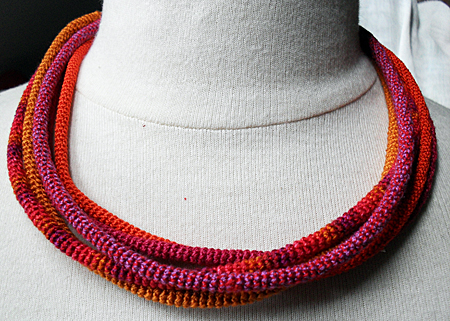 Een verlengstuk: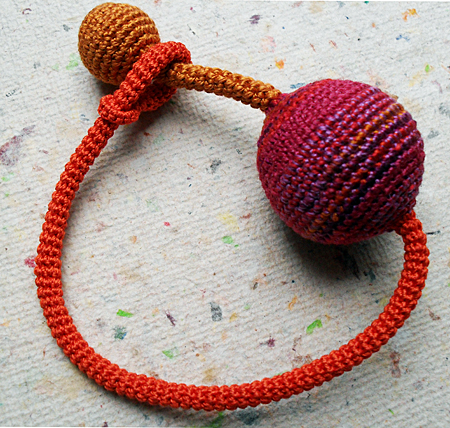 –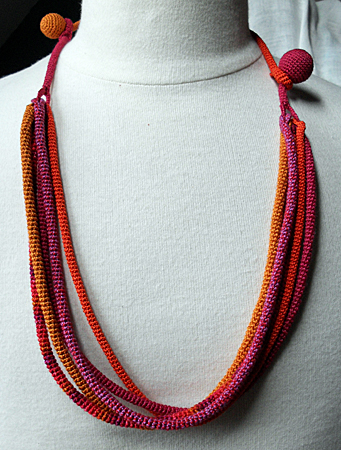 Het verlengstuk geeft mogelijkheden om het snoer  asymmetrisch te schikken: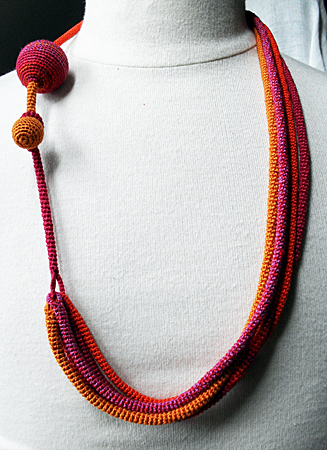 –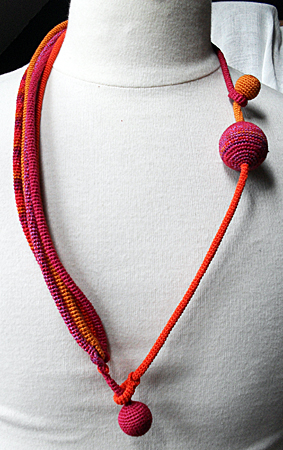 En wat had je gedacht, het was niet zomaar een verlengstuk ;-), maar het kan ook een armband zijn: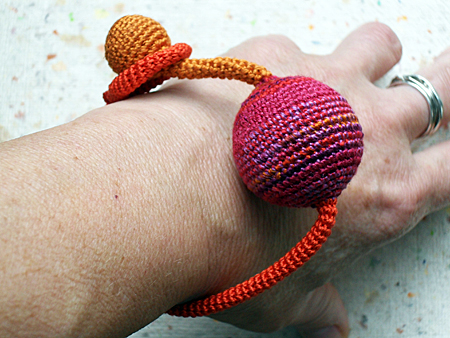 En waarom ook niet zo?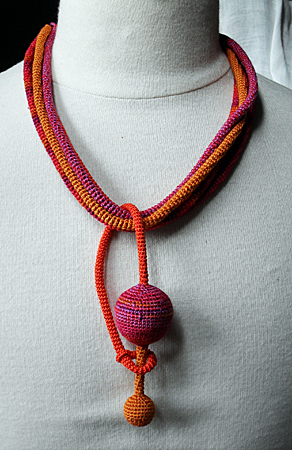 'Sangria' is the name of the colour of the lace silk I used for this necklace. I bought the silk in London, but it was handdyed in Canada.
It exists of five strands, in five different qualtities of silk thread. One of them is tussah-silk (also called wild silk) .This kind of silk thread consists of shorter pieces of silk fibre, because the silk worm stayed alive and got out of its cocoon, meanwhile 'distroying' the long silk thread.
IÂ  also crocheted an extra piece, either to lengthen the necklace or to wear as a bracelet.